Bhojan Bill Sahay Yojana Students receiving unemployment classes are not available in the medical, dental, technical, para-medical and academic systems in their respective talukas and students who are studying outside the taluka, who are studying outside of the government / grant-in-school hostel, monthly income of Rs.1500 per month will be received for 10 months.
Related Post : Gujarat Government Scheme PDF | Sarakari Yojana 2021
Bhojan Bill Sahay Yojana Details
Staying in girls hostels run by any society / trust / institution. Girls studying from 9th to 12th are also eligible for the above food bill assistance, Please Always Check Our Website to Know Upcoming Latest Jobs, Technology Tips and General Information Updates, remain with us shikshanjagat Please share with your companions this Post, Keep checking regularly to get the latest updates.
Gujarat Electric Vehicle Scheme 2021 | Apply For E- Scooter, Rickshaw Subsidy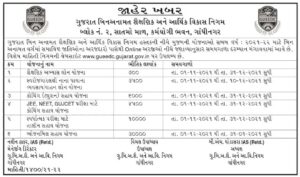 Bhojan Bill Sahay Yojana Eligibility
Non-reserved class students studying in undergraduate medical, dental, technical, para medical will benefit.
The benefit of this scheme is for those who are studying in hostel away from family
Benefit for those who do not have educational system in their taluka and study in hostel outside the taluka
Those who are studying in a hostel other than government or grant aided
Studying in Std-9 to 12 in a girls hostel run by any society, trust or organization
Students must have a non-reserved class certificate Student should be a citizen of Gujarat.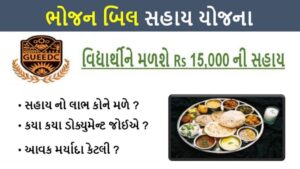 Bhojan Bill Sahay Yojana Documents List
Copy of Aadhaar card
Bin anamat certificate
Certificate of income
Proof of age (L.C. or birth certificate)
Proof of residence
Proof that the monthly meal bill in the hostel is paid or receivable
Bonofide Certificate of Continuing Study of School or College Student
Standard-12 or last year marksheet of study
Proof that the hostel is run by a social trust
A copy of the student's bank passbook
Important Date : Last Date of Application 31-12-2021
The benefit of this scheme is given by Gujarat Non-Reserved Educational and Economic Development Corporation. Eligible students in this scheme will be entitled to food allowance at the rate of Rs. 1500 / – per month for 10 months. Up to a total of 15,000 students eligible for full course and hostel assistance.
Bhojan Bill Sahay Yojana What To Do After Apply
After the online application process, print out the application and sign up. All uploaded
Certified Null of Documents (Certificates, Mark Sheets etc.) who are studying in the district.
Jilla Deputy Director (Nav. Ja) / Jajalla Social Welfare Officer
Must be courier / post / face to face.
First the website of the corporation www.gueedc.gujarat.gov.in has to be opened. So that the skin below will appear. Including the SCHEME menu
Click on the plan you want to apply for.
So that the form / loan assistance standards, eligibility and assessment criteria and required documentation of the scheme chosen by you
The details will appear which you will have to read aloud. You will then need to click on Apply Now below.
Clicking on New Register will bring up the following screen. In the first box your Email ID, in the second box Mobile No.
Type the password in the third box and Confirm Password in the fourth box and click on Submit. So that your registration
A message will appear saying Successful. Then Already Register Click Here for Login? Will have to be clicked on.
Bhojan Bill Sahay Yojana Links