Digital Gujarat Online Service : The government of Gujarat allows its citizen to apply for Domicile Certificate through 'Digital Gujarat' Portal. Citizen can apply online or at the counter. for service testing please login to 'Digital Gujarat' Portal and then apply for the service. Service is also available on Mobile App of 'Digital Gujarat.
Digital Gujarat Online Service
Digital Gujarat is an online portal that has been created by the Government of Gujarat for the assistance of the citizens of Gujarat. It is developed to avail various online services at one web portal. People can register into the website to access all the services provided by the Gujarat government.This blog is dedicated to help visitors to know about Gujarat citizen services, Business services and financial services in detail and how to get benefits from these online services.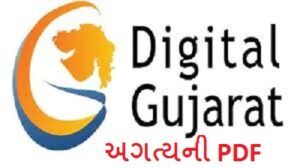 oday I will tell you about Digital Gujarat Portal, Digital Gujarat Portal gives us many online services, so today in this article we will talk in detail about those online services and I will try to give you complete information about those services! First of all, it is understood that when and how did this service start?
Gujarat Government Schemes – Download Gujarat Sarkari Yojana PDF
Digital Gujarat Online Service
Digital Gujarat Online Service: Register with Government of Gujarat Online Portal and get access to 190 Services. Apply online @ official website. A Common Services Portal (CSP – Digital Gujarat Portal) is a vision to provide one-stop solution for all G2C Services for citizens of Gujarat State.
As a part of this vision, this Department intended to integrate Home Department, Women & Child Development, Food, Civil Supplies & Consumer Affairs, Revenue Department, Education Department and Social Justice and Empowerment Department G2C Services in this application.
Digital Gujarat Online Service
The candidates who have already registered on the portal need to login to complete the application process. To do so, they have to visit the official website of Digital Gujarat and click on the 'Login' button available on the top. The candidates can log in using two different methods i.e., log in using email id and log in using mobile number. Once the login is successful, the candidates can avail more than 70 services online, despite the scholarship application.
Manav Garima Yojana 2021 – Application Form PDF & All Details
Keysight is the leading test and measurement equipment provider for electronic design, e-mobility, network monitoring, 5G, LTE, IoT, connected cars, and more. Keysight Technologies is a worldwide leading company for test and measurement products and solutions
Digital Gujarat portal is an online services station where you can take advantage of different services online at home i.e. from your mobile or computer. The Government of Gujarat has recently started this service i.e. in 2020, whose main purpose is to make the people aware of the Internet and to make the work easier.
Digital Gujarat Online Service
From Digital Gujarat, you can do many things sitting at home, you do not need to go to any government office or Kacheri and there is no need to stand in line, you will get many online services in Digital Gujarat portal (1) Citizen Services (2) Scholarship Services. If you have to apply for these services, first of all you need to login on Digital Gujarat Portal, so we take the process of Register / Login to the society.
After login, you have to go to the Citizen Dashboard and click on the "Request a New Service" link, after which a new page will open in front of you, in which you will see all the services of Digital Gujarat Portal, out of which you have to apply to any service. You can, below, we have given a list of the service available in Digital Gujarat in front of you.