DIKSHA Online Training Mobile Application : DIKSHA (Digital Infrastructure for Knowledge Sharing) is a national platform for school education, an initiative of National Council for Education Research and Training (NCERT), Ministry of Education.
DIKSHA was developed based on the core principles of open architecture, open access, open licensing diversity, choice and autonomy as outlined in the Strategy and Approach Paper for the National Teacher Platform released by the former Hon' Minister for Human Resources Development Shri Prakash Javdekar in May, 2017.
ALSO READ : Gyansetu Bridge Course Std. 1 to 10 | Download Full Material From Here
DIKSHA Online Training Mobile Application
DIKSHA itself was launched by the Hon' Vice President of India on Sept 5th, 2017 and has since been adopted by 35 states/UTs across as well as CBSE and NCERT and by crores of learners and teachers.
DIKSHA is built on open source technology, made in India and made for India, which incorporates internet scale technologies and enables several use-cases and solutions for teaching and learning. DIKSHA is built using MIT licensed open source technology called Sunbird, which is a digital infrastructure for learning and is designed to support multiple languages and solutions and offers over a 100 micro services as building blocks for the development of platforms and solutions.
DIKSHA Online Training Mobile Application
ALSO READ : STD 12 Home Learning Video – Watch Daily Live Class Video On DD Girnar & Diksha App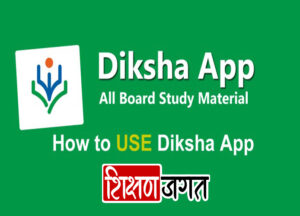 DIKSHA, as mentioned earlier, is available for the use of all states and UTs of India. Each state/UT leverages the DIKSHA platform in its own way, as it has the freedom and choice to use the varied capabilities and solutions of the platform to design and run programs for their teachers and learners. DIKSHA policies and tools make it possible for the education ecosystem (educationist, experts, organisations, institutions – government, autonomous institutions, non-govt and private organisations) to participate, contribute and leverage a common platform to achieve learning goals at scale for the country.
DIKSHA can be accessed by learners and teachers across the country and currently supports 18+ languages and the various curricula of NCERT, CBSE and SCERTs across India. The platform is being leveraged and developed for school education, foundational learning programs and to support inclusive learning for underserved and differently-abled communities of learners and teachers.
In the context of COVID-19 related disruption of schooling, DIKSHA makes it possible for all states/UTs to enable learning/education at home through innovative state programs; hence leapfrogging the use of technology for the benefit of teachers and learners across India.
DIKSHA Online Training Mobile Application
The DIKSHA platform offers engaging learning material, relevant to the prescribed school curriculum, to teachers, students and parents. Download the DIKSHA app and scan QR codes in your textbooks for easy access to all your lessons.
You can download the DIKSHA Mobile Application to explore its out-of-box functionality and features. Use the mobile app to consume content created and maintained by your organization. The content is maintained and stored in the DIKSHA repository. You can consume all the content in the Library section and the Courses in the Course section of the app. You can view and edit your profile and change the basic settings of the app such as display language, ways of backing up data.
DIKSHA Online Training Mobile Application
When there is a new release version of DIKSHA app, logged-in users will get in-app notification to upgrade to the latest version to ensure that DIKSHA content plays smoothly.
You can use the DIKSHA app on a device with Android OS 5.0 and above. If you are not using the latest Android version on your device, some content on the app may be inaccessible. In that case, you can install Crosswalk and view the content.
DIKSHA Online Training Mobile Application
DIKSHA has a repository of content that can be used by teachers and students. It is recommended that you select a user profile so that content relevant to you is displayed thereby enhancing your search results and overall accessibilty of content.
For DIKSHA Pragna Training Gujarat – Click Here
For DIKSHA COVID-19 Training 2021 Gujarat – Click Here
Important Links:
NISHTHA 3.0 Join LINK
મોડ્યુલ 5 -GJ_5_'વિદ્યાપ્રવેશ' અને 'બાલવાટિકા' ને સમજવા
મોડ્યુલ 6 GJ_6_પાયાની ભાષા અને સાક્ષરતા
નીચે આપેલ મોડ્યુલ લિંક પરથી આપ મોડ્યુલ માં જોડાઈ શકશો.
NISHTHA 3.0 Join Link January 2022
 GJ_7_પ્રાથમિક ધોરણોમાં બહુભાષી શિક્ષણ(NISHTHA FLN)
GJ_8_શૈક્ષણિક મૂલ્યાંકન(NISHTHA FLN)
નીચે આપેલ મોડ્યુલ લિંક પરથી આપ મોડ્યુલ માં જોડાઈ શકશો.