Famous Indian Persons : Indians are argumentative by nature and it is this inherent quality that has played a vital role in shaping India in its present form. Famous Indian Persons is a very useful pdf for the competitive exams.With a rich civilization heritage of over 5000 years Indians are probably among the few people in the world who have a continuous uninterrupted past.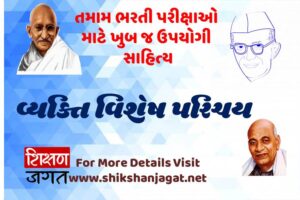 The Indian nationality consists of many regional ethno-linguistic groups, reflecting the rich and complex history of India. The history of the Indian people goes back to the Indus Valley Civilization and since then there have been many Indians who have left their lasting legacy in different fields, be it philosophy, science, arts, culture and sports.
Also Check – Bharat Nu Bandharan 1000 MCQ | Download Most Useful PDF For Exams
Famous Indian Persons
Great philosophers like Buddha and Mahavira showed people an alternative way of life and gave birth to new religions. Ancient Indian mathematicians Aryabhata, Bhaskara and Brahmagupta invented the concept of zero and the decimal system.  Great Indian writers like Kalidasa, Premchand, Rabindranath Tagore and others vividly portrayed the social life during their era and made the world of literature a lot richer by their contribution.
Mahatma Gandhi (1869 – 1948) The foremost political leader of the Indian independence movement. For over two decades, Gandhi strove for a peaceful overthrow of British rule. Inspired millions with his philosophy, resolve and commitment to independence and also to alleviate the plight of women and the 'untouchable' caste.
Jawaharlal Nehru (1889 – 1964) – The first Prime Minister of an Independent India 1947. Nehru became a very well respected international statesman who steered his country through the difficult period following independence.
Also Check – Din Vishesh PDF March | Most Important GK Material 1 to 31st March
Ashoka  (c 269 BCE to 232 BCE) – One of the greatest Indian rulers of all time. Ashoka the Great ruled from 269 BC to 232 BC he embraced Buddhism after a bloody battle and became known for his philanthropism, and adherence to the principles of non-violence, love, truth and tolerance.
Famous Indian Persons
Dr. B.R. Ambedkar  (1891 – 1956) – Political activist and social reformer who campaigned for greater equality for 'untouchable castes' and women.
Netaji Subhas Chandra Bose (1897 – 1945) Indian nationalist leader. Netaji raised a united Indian army (INA) of all religious faiths in an attempt to win independence for India.
Lord Buddha (c 560BC – c 460BC) – Founder of Buddhism. Gave up the comforts of being a Prince in a palace to seek enlightenment in the forests. After gaining the experience of Nirvana, Lord Buddha spent many years travelling India teaching his philosophy of enlightenment and peace.
Also Check – Daily GK Questions Gujarati PDF 8 | 20 Most Useful Bandharan Questions
Adi Shankara (9th Century AD) Shankaracharya was a noted spiritual teacher and philosopher. He spread a philosophy of Advaita Vedanta, which stresses the underlying unity of creation. He also founded the Dashanami monastic order
Guru Nanak  (1469 – 1539) Spiritual Guru and founder of Sikhism. Nanak was born in a Hindu family but taught God was beyond religious distinction and sought to teach that God was in all.
Famous Indian Persons
Sri Ramakrishna (1836 – 1886) was an influential Bengali mystic and spiritual Guru. Ramakrishna practised an intense spiritual sadhana – through his experience, he believed that all religions led to the same goal of God-realisation.
Swami Vivekananda (1863 – 1902 ) – The indomitable spirit of Swami Vivekananda awoke in his fellow Indians a renewed sense of pride and self-belief. Vivekananda embodied both the spirituality of ancient India and the dynamism of the West. He became renowned in the West after his inspirational message of religious tolerance was heard at the World Parliament of Religions'
Sri Aurobindo (1872 – 1950) One of the key figures in the early Indian Independence movement, Aurobindo initiated early efforts at full independence. After his trial, he retreated to Pondicherry to concentrate on spiritual quest and writing epics such as Savitri and Life Divine.
Also Check – Daily GK Questions Gujarati PDF 7 | 20 Most Useful History Questions
Famous Indian Persons
Ramana Maharshi (1880 – 1950) Spiritual teacher who experienced self-realisation at the age of 16 and spent the remainder of his life at the Holy Mountain of Arunachala in south India. He taught a path of self-inquiry. "Who Am I?"
Narendra Modi (1950 – ) Prime Minister of India since 2014. Modi is the leader of the BJP – a Hindu nationalist who has promised to revitalise India economically and politically.
oday We are Publishing Study Material Subjected Vyakti Vishesh(Famous Persons). This Material will be very helpful To you for preparation any competitive examination like GPSC,HTAT,TAT,TET,Talati And many more.
Today is File Important Vyakti Vishesh(Famous Persons)Section. Every Students feel Confusion In This Part Of Exam. In this File You will Find Useful Tricks to Solve That type of Questions.
This File Is Created By Angel Career Academy. Angel Academy is Providing Such a wonderful material for any competitive exams. We suggest you to visit official site angelacademy.co.in to download more material direct. We Specially Thanks To Mr.Samat Gadhavi To Provide This Material For Free to all Students.
Book Author : Samat Gdhavi
Contact Number : 75750 72872
File Size : 725KB
Download Famous Person India File In Gujarati