General Knowledge PDF : This General Knowledge PDF simulates a real online certification exams. You will be presented Multiple Choice Questions (MCQs) based on General Knowledge Concepts, where you will be given four options. You will select the best suitable answer for the question and then proceed to the next question without wasting given time. You will get your online test score after finishing the complete test.
General Knowledge PDF | Most Useful 20 Questions Related GCERT
Welcome to Shikshanjagat. Shikshanjgat is Gujarat's top website for GK (General Knowledge), General Studies, Current Affairs and Aptitude for UPSC,GPSC, SSC, Banking / IBPS, IAS, NTSE, CLAT, Railways, NDA, CDS, Judiciary, UPPSC, TET, TAT, HMAT, TALATI, GSSSB CLERK and other states civil services / government job recruitment examinations of India.
Also Check : Gujarat Shikshan Seva Varg 2 Material | RTE 2009 Rules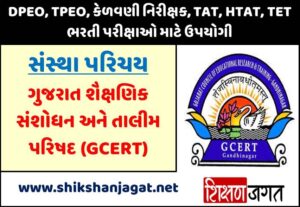 Also Check : Anamika Academy Study Material PDF | All Subject Most Useful Book
Shikshanjagat publishes relevant fact based Current Affairs Quiz almost daily basis. This quiz helps you to keep a watch on current happenings and may be useful for General Awareness part of IBPS Banking, SSC-CGL, Bank Clerical and other similar examinations of 2021-22. Here are the most recent quizzes.
General Knowledge PDF | Most Useful 20 Questions Related GCERT
General Knowledge is the awareness of a broad range of facts about various subjects, such as important events, people, history, geography, scientific phenomena, mathematical facts, etc. It is accumulated over time and is supported by human memory.
General knowledge plays a key role in the overall growth of a child. General knowledge may or may not be directly reflected in the academic scores, but it will help to develop their personality as a whole. We also note that people with good general knowledge tend to have stronger IQs as well. Keep reading the books, surfing on the net for various questions is one of the best ways to develop general knowledge.
General Knowledge PDF | Most Useful 20 Questions Related GCERT
Everyone wants to excel in their career and life. Excelling in a career doesn't just mean excelling in academics. One needs to know his environment and current affairs. The level of IQ and skills required for his life are enhanced by general knowledge. Nowadays, all the competitive exams have a separate section on general knowledge of around 20 marks. It helps to judge the knowledge of the applicant apart from studies. Few exams have made it compulsory to pass this test and then continue for the next exams. So one has to try to give some of their time to enrich their general knowledge skills.
Also Check :Gujarat/Bombay Primary Education Act 1947 | Must Download For TPEO Exam
We have to struggle nowadays to make students read a book, but instead, if the same thing is available on computers or mobile devices children get attracted. In the overall growth of a student, Shikshanjgat' S General Knowledge questions and answers are very beneficial. This page has various questions along with the answers covering every aspect and concept.
General Knowledge PDF | Most Useful 20 Questions Related GCERT
Here is 20 most useful questions PDF related Gujarat Council Of Educational Research And Training(GCERT). This PDF will be very useful for DPEO, TPEO, KELAVANI NIRIKSHAK EXAM, HTAT, HMAT, TET, TAT and other Education departmental exams. Download this PDF from below given link.
Download GCERT 20 Questions PDF