GSEB 10th And 12th New Blueprint 2022 GSEB Blueprint 2022 Pdf Download for Gujarat STD-10 Blueprint 2022 to Question Paper Format. Download GSEB SSC Blueprint 2022 in Subject wide for New Question Paper Format or Exam Pattern to General & Vocational Course for Hindi Medium, English Medium, Gujarati Medium at https://www.gseb.org or https://www.gsebeservice.com.
Related Post : STD 3 to 8 Punah Kasoti Paper – Download Ready To Use PDF
GSEB 10th And 12th New Blueprint 2022
Gujarat Secondary and Higher Secondary Education Board have announced STD-10 Blueprint 2022 Pdf with New Question Paper Style for SA, FA Exam Paper-1, Paper-2, and Paper-3 exam Knowledge, Understanding, Application, Skills style to the state Government and Private School General and Vocational Course Regular and Private Student to the academic year of 2022.
GSEB Gujarat SSC Model Question Paper 2022 Blueprint & Exam Pattern Gujarat 10th / SSC Class Syllabus Text Book, Preparation Tips, Marking Scheme in This Page.Complete Details of GSEB 10th Exam Paper Style 2022 Gujarat X Exam Pattern 2022 Have Been Collected From https://gseb.ac.in./.
GSEB 10th And 12th New Blueprint 2022
Name of Orgainsation
GSEB Gujarat Secondary and Higher Secondary Education Board
Name of Courses
X, 10th Class, 12th Class
Category
GSEB 10th Blue Print Question 2022
Gujarat 10th Model Paper Style 2022
Status
Available Below Download Links
Date of Exam
March 2022
Date Of Result
May/ June 2022
Official Website
www.gseb.org
GSEB 10th And 12th New Blueprint 2022
Related Post : Samaydan Material | Useful For Primary And Secondary Teachers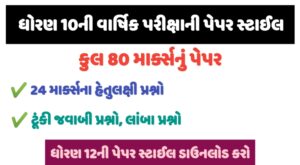 Math / Science and Technology / Social Science Paper Blueprint
Objective Question : 24 Marks
Short Answer Question (SA – I) : 18 Marks
Short Answer Question (SA – II) : 18 Marks
Long Question (LA) : 20 Marks
Total : 80 Marks
Gujarati Paper Blueprint
Objective Question : 24 Marks
Very Short Answer Question (VSA) : 16 Marks
Short Answer Question (SA) : 8 Marks
Long Question (LA) : 24 Marks
Essay Type Question (EA) : 8 Marks
Total : 80 Marks
English Paper Blueprint
Objective Question : 24 Marks
Very Short Answer Question : 5 Marks
Short Answer Question : 18 Marks
Long Question (LA) : 3 Marks
Essay Type (EA) : 30 Marks
Total : 80 Marks
Sanskrit Paper Blueprint
Objective Question : 16 Marks
Very Short Answer Question : 10 Marks
Short Answer Question : 24 Marks
Long Question (LA – I) : 6 Marks
Long Question (LA – II) : 24 Marks
Total : 80 Marks
Hindi Paper Blueprint
Objective Question : 24 Marks
Very Short Answer Question : 20 Marks
Short Answer Question (SA – I) : 10 Marks
Short Answer Question (SA – II) : 9 Marks
Long Question (LA) : 10 Marks
Essay Type (EA) : 7 Marks
Total : 80 Marks
GSEB 10th And 12th New Blueprint 2022
Download SSC Board Blueprint 2022