GSEB SSC/HSC Repeater Exam 2021 Time Table : Gujarat Secondary and Higher Secondary Education Board (GSHSEB) on Tuesday announced the board exam dates for Class 12 and Class 10 (for repeaters and external) students. The announcement came on a day when the Central Board for Secondary Education (CBSE) cancelled the exams for Class 1oth And 12th students.
GSEB SSC/HSC Repeater Exam 2021 Time Table
The Gujarat School Examination Board is ready to announce the GSEB HSC Purak Exam Time Table 2021. Department is planning to announce the Gujarat Board HSC Repeater Exam Date 2021 (Arts Commerce and Science) in upcoming days on the official web portal. Students can able to check their GSEB 12th Class Arts Commerce and Science Exam Schedule 2021 for Purak /Repeater through this web page or given below mention direct links www.gseb.org. Also Read : GSET 2021 – Gujarat State Eligibility Test Apply for Assistant Professor
નવું…નવું

.. ધોરણ 10 અને 12 ની બોર્ડની પરીક્ષા 2022 નું ટાઈમ ટેબલ જાહેર
ધોરણ 10 અને 12 પરીક્ષા ટાઈમ ટેબલ 2022 અહીંથી ડાઉનલોડ કરો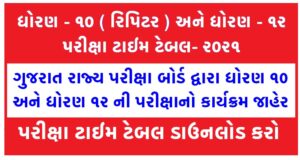 Recently the Gujarat board has released the HSC Arts, Commerce and Science Exam Result in the last month. All the students are very happy but some students not satisfied their obtain marks and fails in some subjects. So, in this situation organization give a second chance for all the students is called compartmental examination.
Also Read : SEB Departmental Khatakiy Exam 2021 | Apply Online @ sebexam.org
GSEB SSC/HSC Repeater Exam 2021 Time Table
Those students who have to get minimum marks and given the supply examination for getting higher marks. Now this time all the students are eagerly waiting for their HSC (12th Class) Exam Schedule 2021 a very long time.  Authority will release the time table for compartment exams after the lockdown is over. So all the don't worry about it when the authority will be released exam schedule then we will inform you through this web page. So all the students stay and connected with the page.
A large number of students have appeared in the annual examination at various centers. All the participate students who have get minimum marks and fill the Purak/ Repeater exam form before the last date. Now all the students are eagerly looking for their exam date here and there but unable to find it. Because examination authority is not announced the Purak exam date yet but it will be declared as soon as possible in the upcoming month.
GSEB SSC/HSC Repeater Exam 2021 Time Table
Last year examination authority has conducted the examination in the month of May. But this year it will be conducted in the month of June 2021. Students don't waste their precious time and start their examination preparation for getting their marks. Here we are provided some simple steps or link as given below mention you can follow it.
The exams will be conducted with precautions in place for Covid-19, such as social distancing rules. As a result, more classrooms will be needed compared to last year, when the exams were held in 16,000 classrooms.
The decision was taken at a high-level meeting chaired by chief minister Rupani. In view of the current Covid situation in the state, after long deliberations, the state government announced on Tuesday in a media statement.
Of the 6,83,000 students, 1,40,000 students are expected to take the Class 12 board exam from the science stream and 5,43,000 would be of the general stream.
GSEB SSC/HSC Repeater Exam 2021 Time Table
The examination will be conducted according to the traditional system. For the Science stream, Part I of the exam, worth 50 marks will be multiple-choice questions (MCQ) using the optical mark reader (OMR) method. Part II will be descriptive answers, worth 50 marks. The exams will be 3 hours long.
For General stream students, the papers will be in the descriptive format and will be worth 100 marks. For the examinations of both streams – a maximum of 20 students will be allowed in one classroom. Every examination centre will be equipped with CCTV cameras.
The government has also announced earlier that for students unable to take the July exams due to Covid-19 or for any other unavoidable reasons, fresh examinations with a new time-table and fresh exam question papers will be conducted shortly.
GSEB SSC/HSC Repeater Exam 2021 Time Table
Here's direct link here to GSEB HSC/SSC timetable 2021.