Gujarat Lokmela PDF Book : Lokmelas of Gujarat have a special significance for the entire folk community. in Kartika starting months Also deep fairs are held during the month somewhere. According to an estimate, about 151 fairs are held in Gujarat during the year at various places. The highest number of 15 fairs is held in Surat district while the lowest number of fairs is held in Dang district. About 50 tribal fairs are held in Gujarat, most of which are held in Panchmahal districts.
આ પણ જુવો : પોલીસ કોન્સ્ટેબલ પરીક્ષા માટે ઉપયોગી PDF બુક્સ
Gujarat Lokmela PDF Book
A fair is a gathering, a gathering, where the masses gather. Bhagwadgomandal be fair, he encounters the end of the last-minute, fair means encounters-visits, a second group of people who meet together in the congregation of the mob , gathering, concert, gatherings, determine the date and the place of prescribed different things bharatum huge market.
The Britannica Encyclopedia Fair means "a streamlined presentation of planned progress for one or more manufacturing activities, to encourage producers to increase public interest in the field of art, science or industry"
Gujarat Lokmela PDF Book
No exact information is available as to where the first fair was held but the fair is mentioned in two ancient epics Ramayana and Mahabharata. The roots of Gujarat's cultural unity lie in folk festivals and Lokmelas. The nature of each fair and their activities are different. Since the original purpose of our ancestors was to preserve our culture, it can be assumed that fairs started.
આ પણ જુવો : ગુજરાતી વ્યાકરણ માટેની બેસ્ટ બૂક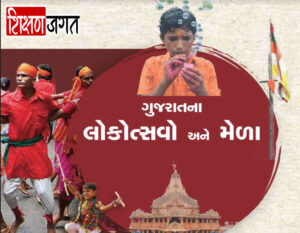 Lokmelas held in Gujarat are largely held in connection with religious festivals, occasions or beliefs. Lord Shiva , Rama , Krishna , Hanuman and Ambaji , Bahucharaji , Sita Mata, Dondi is held on the occasion of deities Feast like a mother, likewise Ramanand Swami , Kabir , oghadadada bellows-Khatri, Jalaram Bapa Saints and the like Muslim Pir-Olia is filled with the memory of Mira Datar, Hazrat Pir, Naruddin Olia etc. Fairs of such religious significance actually have secular value.
Gujarat Lokmela PDF Book
Fairs are usually held with religious sentiments at the center to pay homage to men who have sacrificed for the welfare of the people and to offer half of their faith and devotion. It is also associated with social and economic purposes. There are many things to buy and sell. Farmers trade in cattle such as cows, horses, camels or oxen.
Fairs are usually held on hills or in the foothills, by the river or by the sea. There are very famous fairs like Vautha fair at the confluence of seven rivers , Shukaltirth fair at Narmadakantha , Bhavnath fair at the foothills of Junagadh and Shatrunjay fair.
Gujarat Lokmela PDF Book
Fairs are usually held once a year but the deadline for fairs varies. Most of the fairs are held in the morning or in the afternoon and there are fairs of one day, fairs of two days, fairs of three or five days or weeks. Tribal area fairs, known as hat fairs, are held every week.
ગુજરાતના લોકોત્સવ અને મેળાઓ PDF ફાઈલ અહીંથી ડાઉનલોડ કરો