Gujarati Grammar : Hello Friends ! As You All Know Shikshanjagat is the best site in Gujarat For Gujarat Level competitive Exams Preparation. Here are Gujarati Grammar books for the candidates who are preparing for competitive exams.
Gujarati Grammar For Competitive Exams
Shikshanjagat Provides Very Unique And Point to Point Material for Competitive Exams. Many Readers of this site have successfully passed many exams. You Can Download Material in PDF, As Magazine, Online Test And Daily Current Affairs in Gujarati.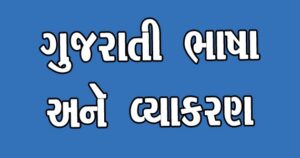 Also Read :: Gujarat Ni Asmita PDF | Download Most 2 Popular GK Book
Gujarati bhasha saundarya book is one of the best pdf book to be useful in various exams like ,Gpsc,upsc,talati mantri,Revenue talati,Binsachivalay,And other gujarat based exams .This book includes various details of gujarati bhasha like jodani,samas,anuswar,samanarthi,anekarti,virudharthi and etc .This book is very useful for many exams so dont forget to download this book.
Gujarati Grammar For Competitive Exams
keep visiting our website for more search related to gujarat rojgar samachar,Gujarati grammer,gujarati vyakaran,gujarati grammer,english grammer in gujarati,gujarati vyakaan in pdf,gujarati grammer book,gujarati vyakaran book.
Also Read :: Gujarati Vyakaran PDF | Most Useful Gujarati Vyakaran By Anamika Academy
GUJARATI BHASHA VIVEK Gujarati Grammar Book For GPSC Office Assistant Talati Binsachivalay Clerk etc. This Book Include Topic Like, Bhasha, Boli, Lipi,Varnvyavastha, Nam, Sarvnam, Visheshan, Kriyavisheshan, Kriyapad, Namyogi, Ubhauanvi, Kevalprayogi, Samanarthi, Virudharthi, Anekarthi, Sabdasamuh mate Ek Sabda Rudhiprayogo, Kahevato, Jodanina Niyamo, Viramchinho, Gujarati Sahitya.
Gujarati Grammar For Competitive Exams
The Gujarati language is more than 700 years old and is spoken by more than 55 million people worldwide.Outside of Gujarat, Gujarati is spoken in many other parts of South Asia by Gujarati migrants, especially in Mumbai and Pakistan (mainly in Karachi). Gujarati is also widely spoken in many countries outside South Asia by the Gujarati diaspora. In North America, Gujarati is one of the fastest growing and most widely spoken Indian languages in the United States and Canada.
In Europe, Gujaratis form the second largest of the British South Asian speech communities, and Gujarati is the fourth most commonly spoken language in the UK's capital London. Gujarati is also spoken in Southeast Africa, particularly in Kenya, Uganda, Tanzania, Zambia, and South Africa. Elsewhere, Gujarati is spoken to a lesser extent in China (particularly Hong Kong), Indonesia, Singapore, Australia, and Middle Eastern countries such as Bahrain.
Gujarati Grammar For Competitive Exams
Gujarati Grammar Book is Very important for all competitive exams. you can use this material for GPSC 1-2, PI (Police Inspector), Assistant Sub Inspector (ASI), Police Sub Inspector (PSI), Deputy Section Officer (Dy. SO) Nayab Mamlatdar, Sachivalaa Clerk, GSSSB, Bin-Sachivalaa Clerk, TAT, TET 1-2, Revenue Talati, Talati, Bank Jobs, and Police Constable.
Bhasha Niyamak kacheri books