Kala Utsav Competitions 2021 Schedule : Kala Utsav is an initiative of the Ministry of Human Resource Development (MHRD) under Rashtriya Madhyamik Shiksha Abhiyan, to promote arts in education by nurturing and showcasing the artistic talent of school students at the secondary stage in the country. Rashtriya Madhyamik Shiksha Abhiyan (RMSA) recognises the importance of aesthetics and artistic experiences for secondary-level students, which play a major role in creating awareness of India's rich cultural heritage and its vibrant diversity.
NCERT 6 to 8 Science Experiments | Activities List | Classroom Projects PDF
Kala Utsav Competitions 2021 Schedule
In the context of education of Arts (Music, Theatre, Dance, Visual Arts and Crafts), the initiative is guided by the recommendations of the National Curriculum Framework 2005 (NCF-2005). Though India has a long tradition of art and artistic practices, a uniform process of identifying artistic talents in school education is yet to be developed. We also have a tradition of using arts in the process of learning: the narrative tradition is one such example. These traditions also show us the creative expansion from the individual to the community, which contributes towards the overall development of the society.
NCERT has inaugurated an online event named 'Kala Utsav' under Ek Bharat Shreshtha Bharat scheme to promote skill development for students at secondary education level involving students of Classes 9 and 10.
Kala Utsav Competitions 2021 Schedule
Kala Utsav will be a 12-day event to end in January 2022. The schools were asked to register for the event. The Ministry of Human Resource Department (MHRD) will be live telecasting the event on its official website. The direct link of the event is webcast.gov.in/mhrd/. The Department of School Education and Literacy is also collaborating to host the event held under the National Educational Planning Act.
Students of various affiliated schools will be performing visual and performance arts in a virtual mode as most of them will be preparing for the event at their homes and sending a recorded video of their performances or performing live during the event. Competitions including doll making, music, dance, visual arts, painting, sculpture, and games will be conducted.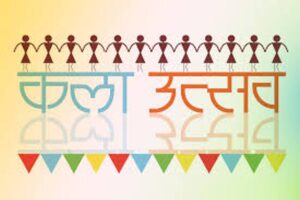 Kala Utsav Competitions 2021 Schedule
| Name of the Competition | Kala Utsav Competition 2021 |
| --- | --- |
| Title | Participate in Kala Utsav Competitions 2021 |
| Subject | NCERT has released the Kala Utsav Competitions 2021 |
| Category | Competition |
| Last date for National Kala Utsav entries | 10-12-2021 |
| Website | http://kalautsav.in/ |
| Guidelines | Kala Utsav Guidelines |
| Mahabubabad | MHBD District Kala Utsav |
The National level Kala Utsav 2021 will be conducted live through virtual platform. Information of the virtual platform will be provided to the nodal officer of the concerned State/UT and to the KVS/ NVS authorities for making necessary arrangements prior to the competitions. Schedule of the competitions in different categories will be shared with the nodal officers and shall also be flashed on Kala Utsav website, well in advance.
In every area of arts, there will be a separate jury consisting of experts drawn from educators or practitioners or scholars of the respective art form. Members of the jury will remain same for all the competition days. The Jury will have interactions with the students during these competitions through virtual platform.
Kala Utsav Competitions 2021 Schedule
The districts can send one Male and one Female entry in each of the 9 categories. Entries for Online Kala Utsav, will have only those student performers who are studying in Classes IX to XII and have prepared under the supervision of the school authorities. Involvement of professional artists or performers is not allowed as entry. One student can participate only in one category. Thus, every district can submit total of 18 entries, that is; 9 Male and 9 Female participations.
Kala Utsav Competitions Schedule and Levels
Mandal Level Kala Utsav Competitions: From 20.10.2021 to 23.10.2021.
Submission of entries To District level by 25.10.2021
Divisional and District Level Kala Utsav Competitions 2021: From 27.10.2021 to 30.10.2021.
Submission of entries To State level by 01.11.2021.
State Level Kala Utsav Competitions 2021: Will be informed
National Level Kala Utsav Competitions 2021: Will be informed
Names must be registered for the 'Art Festival (Kala Utsav)'. As per the NCF guidelines, the Central Government is organizing competitions in various disciplines under the name 'Kala Utsav 2021' as it does every year to unearth the hidden creativity in 9th, 10th, 11th and 12th class students.
Kala Utsav Competitions 2021 Schedule
This time the competition is being conducted online in 9 categories. Each category can have 18 participants from each zone, one girl and one boy. Those who show talent in this will be selected at the state level. MEOs should take steps to involve boys and girls in various subjects.
મહત્વપૂર્ણ લિંક
કલા ઉત્સવ –૨૦૨૧ નો લેટર વાંચવા માટે અહીં ક્લિક કરો
કલા ઉત્સવ –૨૦૨૧ ગાઈડ લાઈન જોવા માટે અહીં ક્લિક કરો