Khel Mahakumbh 2023 The Khel Mahakumbh is a sports event in the Indian state of Gujarat. It is one of the largest and most prestigious sporting events in the state and is organized by the Government of Gujarat. The Khel Mahakumbh aims to promote sports and physical fitness among the youth of Gujarat and provide a platform for talented athletes to showcase their skills.The Khel Mahakumbh has been instrumental in nurturing sporting talent in Gujarat and has contributed to the overall development of sports in the state. It has also played a role in fostering a sense of community and healthy competition among the people of Gujarat.
The Khel Mahakumbh is a sports competition organized by the government of Gujarat. It brings together athletes from all parts of Gujarat who compete in various sports. The Khel Mahakumbh began in 2012 and has since been a significant event in Gujarat, aimed at promoting sports and competition. In 2023, it is being held under the name Khel Mahakumbh 2.0 from September 23 to April 29. This year's Khel Mahakumbh includes 33 sports, featuring a wide variety of indoor and outdoor activities.
ગુજરાતના પ્રતિભાશાળી ખેલાડીઓ માટેનો રાજ્યનો સૌથી મોટો રમતોત્સવ એટલે 'ખેલ મહાકુંભ'.

'રમશે ગુજરાત, જીતશે ગુજરાત'ના મંત્ર સાથે ગુજરાતની યુવાશક્તિ માટે ગ્રામ્યથી રાજ્ય કક્ષા સુધી આયોજિત 'ખેલ મહાકુંભ'માં ભાગ લેવા માટેનું રજિસ્ટ્રેશન આજરોજ તા.23 સપ્ટેમ્બર, 2023થી શરૂ થઈ રહ્યું છે. pic.twitter.com/bLJatGsAJi

— CMO Gujarat (@CMOGuj) September 23, 2023
To participate in the Khel Mahakumbh, athletes need to register online or offline. The last date for registration is October 18, 2023. Winners in the Khel Mahakumbh receive cash prizes, medals, and certificates. In 2023, the cash prizes amount to more than 30 crore rupees. The Khel Mahakumbh has played a crucial role in boosting sports enthusiasm among the youth of Gujarat, making it a cherished event in the state's sporting calendar. It provides a substantial platform for athletes from all corners of Gujarat to showcase their skills and passion for sports.
Khel Mahakumbh 2023
| | |
| --- | --- |
| Name of Artical | Khel Mahakumbh 2023 Registration |
| Language | Gujarati And English |
| Purpose | Gujarat's athletes receive encouragement in sports and more and more athletes participate, bringing honor to the state in sports competitions. |
| Sections | Sports, Youth & Cultural Activities Department, Gujarat |
| Total DEvents | More Than 29 |
| Khel Mahakumbh Registration Starting Date | 23 સપ્ટેમ્બર 2023 |
| Sports, Youth & Cultural Activities Department Official Website | Click Here |
| Khel Maha Kumbh Official Website | ખેલ મહાકુંભ ઓફિશિયલ વેબસાઈટ |
Eligibility Criteria for Gujarat Khel Mahakumbh There are not any specific eligibility criteria for the participation
All male and female candidates are eligible to participate in Gujrat Khel Mahakumbh 2023
Participants should have knowledge of the sports that they are going to play.
All schools and colleges can apply for registration.
Each team coach has to register online for the participation of their team.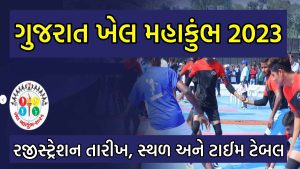 Khel Mahakumbh 2023 Game List
| | | |
| --- | --- | --- |
| Archery (તીરંદાજી) | Athletics (એથ્લેટિક્સ) | Basketball (બાસ્કેટબોલ) |
| Badminton (બેડમિન્ટન) | Table Tennis (ટેબલ ટેનિસ) | Taekwondo (તાઈકવૉન્દો) |
| Yogasan (યોગાસન) | Artistic Skating (કલાત્મક સ્કેટિંગ) | Handball (હેન્ડબોલ) |
| Hockey (હોકી) | Volleyball  (વોલીબોલ) | Wrestling (કુસ્તી) |
| Weight Lifting (વજન પ્રશિક્ષણ) | Kho-Kho (ખો-ખો) | Shooting Ball (શૂટિંગ બોલ) |
| Swimming | Skating | Shooting (શૂટિંગ) |
| Cycling | Football (ફૂટબોલ) | Chess (શેતરંજ) |
| Judo (જુડો) | Kabaddi (કબડ્ડી) | Lawn Tennis |
| Tug of War | Gymnastics | Wet sticks |
| Malkham | Karate | Boxing (બોક્સિંગ) |
Step to Register for Gujarat Khel Mahakumbh 2023
Students, If you want to know about the "How to Participate in Khel Mahakumbh", then you need to follow the given below simple instructions and register for the same as per the given schedule.
1st Step: – First of all, you need to login the official website of Go to the official website of Gujarat Information of Sports and Training (GIST) i.e. gist-sgsu.gujarat.gov.in
Also Check : Sports GK Questions PDF | Download 200 Sports GK PDF In Gujarati
5th Step: – Now a "USER Guide (1.47 MB)" pdf is available, Download it and read it carefully
6th Step: – Find the link of Gujarat Khel Mahakumbh Registration 2023
7th Step: – Enter the required all personal information.
8th Step: -After it, click on the submit button, After filling the registration form sports person will receive OTP on mobile via sms or Email
9th Step: – After it, you need to provide OTP which you get through SMS/E-Mail.
10th Step: – After successful registration sport person can login in his/her profile and can complete it and now login in this page
Khel Mahakumbh 2023 Links