Kids Learning Apps : Are you looking for the top educational apps for kids? Here are 3 outstanding Kids Learning applications that engage children's brains and allow them to have fun while they're learning. Over the last couple of decades, the education industry has undergone a huge transformation. With the arrival of apps, learning has become easily accessible, which makes it much more interesting for students of all ages.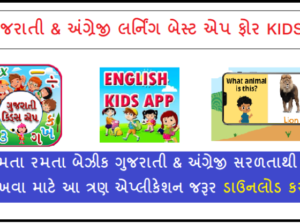 Educational apps now bridge the communication gap between not only parents and teachers, but also kids and teachers. Childhood is important for learning. And because children become smarter and smarter, there is great need to introduce different, advanced learning means and methods. In this article, let's throw some light on the top educational app for kids.
Kids Learning Apps
Mobile app development offers numerous benefits in the education industry. Students are more driven towards using a mobile phone for every purpose, thus apps is the perfect way to attract students to learn and enhance their skills.
તમામ માતા-પિતાને નમ્ર વિનંતી 15 મીનીટનો સમય કાઢી નીચેની બાબતો બાળકોને જરૂર સમજાવશો…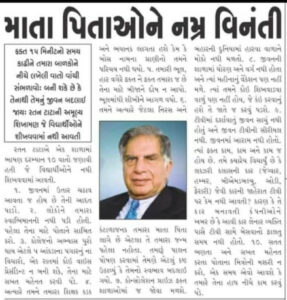 આ પણ જુવો : STD 6 to 8 All Subject Navaneet Guides – Download PDF for Better Preparation
Kutuki – Kids Learning App is an early learning app Made by Educators for Indian kids in LKG, UKG, Playgroup, and Nursery. Kutuki has taken deep care to ensure that preschool kids stay curious with joyful learning. Through Kutuki – Kids Learning App, kids learn and develop skills in English, language, STEM, social, and life skills.
Kids Learning Apps
Research shows that preschool kids learn best with the help of Stories and Rhymes. Especially when the settings and characters are familiar to the kids. Kutuki's Stories & Rhymes are Made in India, set in India and filled with Indian Culture and Values. Kutuki – Kids Learning App enables kids to learn in English as well as Hindi, Marathi, Tamil & Kannada.
best kids learning apps English Kids App is a way of learning English for kids or first-time learners. This app shows various sections like English Alphabets, Kids Pre Math, Kids math, English Numbers, English Months, The days of the Week, Fruits & Vegetables In English, Food, Clothes, Flowers, Vehicle, Birds, Animals, Colors, Shapes, Occupations, Computer, Seasons of the year, School Stationery, good habits for kids, Magic Slate and Directions also Games for kids, kids spelling learning, drawing & painting for Kids.
Kids Learning Apps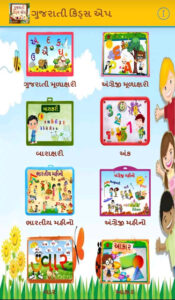 Through Kutuki's creative curriculum – rhymes, stories, activities and more, kids have fun learning preschool themes. Indian Festivals & Culture – Diwali, Dussehra, Holi, Ugadi, Christmas. Space (Planets, Earth, Moon, Stars, Astronauts). Health and Hygiene (Yoga for kids, Exercise for kids, Food, Healthy Eating, Vegetables, Fruits) Animals and Nature (Dogs, Cats, Pet Animals, Farm Animals, Wild Animals, Plants, Flowers, Trees, Dinosaurs). Travel and Transport, Safety, Emotions & Feelings, Sharing, Overcoming Fear, Overcoming Shyness.
Kids Learning Apps
Kutuki's Learning App is aligned to preschool curriculum and will ensure that kids learn important topics such as
⭐ Learning English Letter sounds through Phonics
⭐ Learning English Alphabet Tracing/ Handwriting
⭐ Counting numbers
⭐ Learning and recognizing Shapes
⭐ Learning and recognizing Colours
⭐ Building general knowledge and awareness
App Download Links: