NMMS Exam Online Test 2 Number Series: Though NMMS is a Central Government scholarship scheme, its selection test is conducted by each State/UT for their respective students. These tests include a mental ability test and a scholastic aptitude test whose guidelines are set by the NCERT. The applicants need to complete each test in a maximum time duration of 90 minutes. However, children of special abilities are given some extra time to complete the tests. Given below are the details about this State Level Examination Test.
Also Read : NMMS Exam Practice Book | NMMS Book PDF | NMMS Best Book Gujarati
NMMS Exam Online Test 2 Number Series
The Centrally Sponsored Scheme "National Means-cum-Merit Scholarship Scheme (NMMSS)" was launched in May, 2008. It is implemented by the Department of School Education & Literacy under the Ministry of Human Resource Development. The objective of the scheme is to award scholarships to meritorious students of economically weaker sections to arrest their drop out at class VIII and encourage them to continue the study at secondary stage. Scholarship of Rs. 12000/- per annum (Rs.1000/- per month) per student is awarded to selected students every year for study in classes from IX to XII in State Government, Government aided and local body schools. There is quota of scholarships for different states/UTs.
NMMS Exam Online Test By Shikshanjagat
Students whose parental income from all sources is not more than Rs. 1,50,000/- are eligible to avail the scholarships. There is reservation as per State Government norms. The selection of students award of the scholarships is made through an examination conducted by the State Governments. Scholarships are disbursed by the State Bank of India directly into the bank accounts of students on quarterly basis.
NMMS Exam Online Test 2 Number Series
The students studying in "Kendriya Vidalayas and "Jawahar Vavodaya Vidlayas" are not entitled to get scholarship under this scheme. Similarly, those students studying in Residential Schools run by the State Government Institutions, where facilities like boarding, lodging and education are provided and students studying in private schools are also not eligible for the scholarship under this scheme.
NMMS Exam 2021 Notification
Exam Name : National Means Cum Merit Scholarship
Exam Body : State Examination Board Gujarat
State : Gujarat
Category : Exam , Online Test
Scholarship Amount : 48,000/rs. total of Four Years
NMMS Exam Online Test 2 Number Series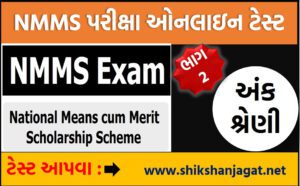 NMMS Exam Pattern
S.No
Particulars
Particulars
1
Mental Ability Test (MAT)
• This test examines the reasoning abilities and critical thinking of students through 90 multiple-choice questions. Most of the questions may be based on topics like analogy, classification, numerical series, pattern perception, hidden figures.
• This test also includes Hindi and English proficiency test.
2
Scholastic Aptitude Test (SAT)
• SAT consists of 90 multiple-choice questions.
• The syllabus of SAT covers the subjects of science, social studies and mathematics as per the syllabus of class 7 and 8.
यह भी पढ़े ::