PSE Exam Online Test 20 : State Examination Board of Gujarat has published a notification for the Primary Scholarship examination(PSE) 2021. PSE Exam Online Test 20 – Maths  is a very best practice test for students. Every year SEB Conducts this exam for standard 6th students. A large number of students are applying for this Scholarship Exam. PSE is basic level examination for the students that helps them to prepare for Competitive exams.
PSE Exam Online Test 20 – Maths
Here Shikshanjagat is providing Online Mock tests for Gujarat Level Competitive exams. Shikshanjagat is the most popular platform in Gujarat for Competitive exams material. Today Shikshanjagat is going to provide an online mock test for the PSE which is conducted by SEB. Students are advised to keep visiting our site for regular updates regarding Primary Scholarship examination(PSE) 2021.
Here is today's Online Test of Maths Subject for PSE. Students can submit their answers by clicking on radio button given aside the answers. After Submitting all answers students can see their score and also download their Certificate. Students who have not applied for the Primary Scholarship examination(PSE) 2021 can apply here. More Details are given below.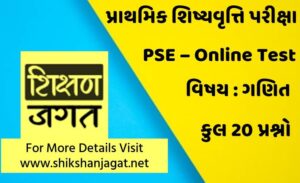 State examination board or SEB Exam is an educational board that conducts various scholarships and competitive exams in schools and colleges located in the state of Gujarat. These exams are government-funded and approved by the central government bodies.
PSE Test Links :
PSE Exam Online Test 20 – Maths
PSE and SSE examinations
Primary education scholarship ( PSE ) and Secondary education scholarship ( SSE ) exams are conducted every year to provide scholarships to meritorious students for their primary and secondary education, respectively.
PSE and SSE Eligibility Criteria
Candidate must be appearing in the 6th class to take the PSE exam, while for SSE, one must be in class 9th.
PSE and SSE Application Fees
A minimal fee of INR 40 is charged for the PSE exam and INR 50 for the SSE exam.
PSE Exam Online Test 20 – Maths
The Gujarat Education Department established the State Examination Board (SEB) in 1966. It conducts numerous exams such as primary, secondary, and higher secondary level scholarship examinations.
Some SEB exams are:
Primary Education Scholarship Examination (PSE)
Secondary Education Scholarship Examination (SSE)
National Talent Search Examination (NTSE)
National Means cum Merit Scholarship (NMMS)


SEB Exam Paper

Given below is the pattern of examination papers for some SEB Exams:

Primary/ Secondary Education Scholarship Examination (PSE/SSE)

PSE: Std-1 to Std-4
SSE: Std-5 to Std-7

Language – General Knowledge

Questions: 100
Marks: 100
Time: 90 Minutes

Maths – Science

Questions: 100
Marks: 100
Time: 90 Minutes
PSE Exam Online Test 20 – Maths
Primary Scholarship Examination (PSE)
The student is in Standard 6 in a non-granted primary school or local body school (district panchayat/municipality/municipality school)
The student has acquired at least 50% marks or equivalent grade in Standard 5
Secondary Education Scholarship Examination (SSE)
The student is in Standard 9 in a government-run secondary school, local body school, granted- secondary school or non-granted secondary school
The student has acquired at least 50% marks or equivalent grade in Standard 8
PSE Exam Online Test 20 – Maths
Go to the official website of Gujarat State Examination Board http://www.sebexam.org/
Click on 'Apply Online' on the Menu bar
Click on the specific exam 'Notification' link on the Notice Board
Click on 'Apply Now' beside 'Primary Scholarship Exam' or 'Secondary Scholarship Exam' or 'National Means cum Merit Scholarship Scheme' or 'National Talent Search Examination'
Read the instructions given and proceed to click on 'Continue' to open the application form
Fill the 'Personal Information Of The Candidate', 'School Address Information' and 'Other Information' section
Accept the declaration
Click on 'Save'
Also Check