Science And Technology online Test : Science and Technology Quiz provides questions and answers that are related to advancements in science and technology. And it is helpful for every person to know the updates in the present technology. Science and Technology GK Questions are very useful in analyzing the current technology and its lateral improvements.
Science and Technology Online Test offers a quick view of technologies with scientific research. Awareness of the Science and Technology may get through the reading of various encyclopedias and maybe through the newspapers and other means of communication.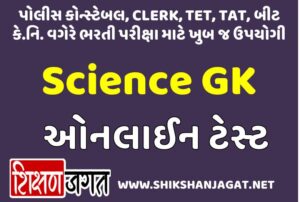 Science And Technology online Test
Firewall protection keeps your computer safe from intrusion by hackers while it is connected to the internet. It does so by examining the electronic data coming in to and out of your computer.
આ પણ જુવો : સ્પર્ધાત્મક પરીક્ષાઓ માટે ઉપયોગી – ભારતનું બંધારણ સાહિત્ય ડાઉનલોડ કરવા અહી ક્લિક કરો
There are multiple types of firewalls, each using a different approach to traffic filtering. First generation firewalls worked as packet filters, comparing basic information such as original source and destination of the packet, the port being used, or the protocol against a predefined list of rules.
Science And Technology online Test
Second generation comprised the so-called stateful firewalls, which added another parameter to the filter setup, namely connection state. Based on this information, the technology could determine if the packet was starting the connection, was a part of an existing connection or wasn't involved at all.
There are software and hardware firewalls. Each format serves a different but important purpose. A hardware firewall is physical, like a broadband router — stored between your network and gateway. A software firewall is internal — a program on your computer that works through port numbers and applications.
આ પણ જુવો : સ્પર્ધાત્મક પરીક્ષાઓના ઓનલાઈન ટેસ્ટ આપવા અહી ક્લિક કરો.
Science And Technology online Test
There also are cloud-based firewalls, known as Firewall as a Service (FaaS). One benefit of cloud-based firewalls is that they can grow with your organization and, similar to hardware firewalls, do well with perimeter security.
There are several different types of firewalls based on their structure and functionality. Here are the various firewalls you can implement, depending on the size of your network and the level of security you need.
Science and Technology Quiz Details
| | |
| --- | --- |
| Quiz Name | Science and Technology |
| Category | GK Questions |
| Number of Questions | 20 |
| Time | No Time Limit |
| Exam Type | MCQ (Multiple Choice Questions) |
The proxy service firewall is a system that can help protect your network security by filtering messages at the application layer. It essentially serves as a gateway or middle man between your internal network and outside servers on the web. Also known as a gateway firewall, it is more secure in its use of stateful and deep packet inspection technology to analyze incoming traffic.
Next-generation firewalls are more sophisticated than packet-filtering and stateful inspection firewalls. Why? They have more levels of security, going beyond standard packet-filtering to inspect a packet in its entirety. That means inspecting not just the packet header, but also a packet's contents and source. NGFW are able to block more sophisticated and evolving security threats like advanced malware.
Science And Technology online Test
Science & Technology Quiz for the preparation of UPSC exam. Start FREE online practice test with MCQ questions and detailed answers of Science & Technology helpful for any competitive exams.
Gujarati Vyakaran Online Test – Most Useful 20 Questions For Competitive Exams