Socratic Homework Helper App Socratic By Google is an impressive educational tool that, by means of photographic recognition, allows its users to answer practically any question, regardless of the scientific scope of the subjects it touches. It'll also let you look up the exact theory that explains the solution to your conundrum.
Also Read : Good Running App for Android | GPS Run Tracker 2021
Socratic Homework Helper App
Using Socratic By Google is really simple. Once you fire up the app, all you need to do is take a quick picture of the question or problem to be solved. Once the text recognition system in Socratic By Google has analysed your query, you're shown all the possible solutions on screen, accompanied by a complete theoretical explanation to resolve any doubts you might have about the solution.
Public Holiday List 2022 | Gujarat Jaher Raja List PDF
Socratic By Google also has a complete section focused solely on theory so you can delve deeper into different subjects like biology, chemistry, algebra and arithmetic. The resolution capacity of Socratic By Google is impressive and its ability to offer the right answers to any doubt you have is straight out of a scifi movie.
Socratic Homework Helper App
Socratic By Google is an essential tool for students or self-learners who want to benefit from the unwavering support of Google during their learning process. Google announced of procuring Socratic, a homework helper app and the company also detailed about added support for the firm's AI technology and its reactivation on iOS.
Google did not talk any further about the acquisition. Socratic was established in 2013 by Shreyans Bhansali and Chris Pedregal with the aim of constituting a community that can help children learn.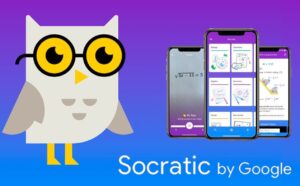 The app started with Q&A platform where children could clarify their doubts by asking questions. This platform was similar to Quora but as time passed, they raised $6 million in Series A funding back in 2015 and its community expanded to 500,000 students. The firm later shifted its focus from people to utility.
Socratic Homework Helper App
The Socratic app utilizes artificial intelligence to accurately predict which concepts will help a student solve their question. Over months, millions of real student questions were analyzed and classified. Then the app uses that data to guess on future questions and provide specific education content.
The app works by letting students take a photo of a homework question, a feature that was later added to Google Lens. Using Optical character recognition (OCR), the app is able to read their photo and classify it using the technology described above. Students receive various "cards" in the app with different learning resources such as definitions, YouTube videos, Q&A, and original content and illustrations written by the Socratic.org web community.
Socratic Homework Helper App
HELPFUL RESULTS
Use your voice or camera to connect to online resources and understand any problem.
– EVERYTHING YOU NEED IN ONE PLACE
Find videos, step-by-step explanations, and more to learn subjects at your own pace.
– EXPERT-CREATED STUDY GUIDES
Socratic partnered with teachers and experts to bring you visual explanations in each subject, so you can learn the concepts behind any problem.
– WORKS FOR ALL YOUR SUBJECTS
Currently includes Algebra, Geometry, Trigonometry, Biology, Chemistry, Physics, History, and Literature. More to come!