SPIPA UPSC CSE Entrance Exam 2022 SPIPA was established by the Government of Gujarat in 1962 as the apex Training Institution of the state. The Institute was renamed as Sardar Patel Institute of Public Administration in 1974. It became on autonomous body (registered under the Societies Registration Act, 1860) in October 2004, so as to gain that essential flexibility in fulfilling its role and meeting the expectations of the State Government.
Named after the Iron Man of India, the Sardar Patel Institute of Public Administration, popularly known as SPIPA, was established as an institution for training government functionaries. The Institute is strongly committed to development of human capital. It provides state-of-the-art training in public administration, rural development, local self government, disaster management and related areas so as to optimize the competence of Government employees and, thereby, helps realize the endeavor of ideal governance.
Also Read :
Javahar Navodaya Std 6 Answer Key 2022 | Download Question Paper & Solution
GSEB STD 12 Science Stream Topper Students Answer Sheets | Download For Best Preparation
GSSSB Bin Sachivalay Clerk Answer Key 2022 | Check Clerk/ Office Assistant Result,Question Paper & Solution
SSA CRC BRC Old Papers | Download Question Papers & Answer Keys
SPIPA UPSC CSE Entrance Exam 2022 Overview
SPIPA derives inspiration from the Ashoka Chakra, the symbol of ideal governance. The Chakra has 24 spokes, each of which stands for a vital characteristic of good governance. SPIPA has emerged today as the nationwide platform for sharing and exploring new possibilities in improving governance. The institute is unique in its ability to draw out experts from each field to supplement the efforts of its in-house faculty. The campus and facilities at SPIPA offer the perfect ambience for studies and discussions, research and documentation.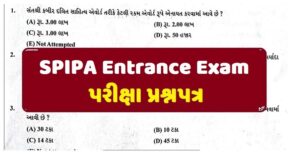 SPIPA UPSC CSE Entrance Exam 2022 Details
Selection Process : SPIPA Candidates Final Selection will be based on written exam.
Exam Centre: Ahmedabad, Vadodara, Surat, Rajkot & Mehsana
SPIPA UPSC Civil Service Written exam Pattern
First Exam Paper pattern: Multiple Choice Question, Total 300 Marks
Paper -1, General Studies-1 –  200 marks (2 hours)
Paper – 2, General Studies-2 (CSAT) (Aptitude)- 100 marks  (1.30 hours)
Second Exam Paper Pattern: Essay Test, Total 100 Marks No. of Essay 02 (50 – 50 Marks) (Each Essay 800 Words)
SPIPA UPSC CSE Entrance Exam 2022 Syllabus
Paper -1 General Studies
Current events of national and international importance.
History of India and Indian national movement.
Indian and World Geography – physical, social, economic geography of India and the world.
Indian Polity and governance – constitution, political system,Panchayati Raj, public policy, Rights Issues, etc.
Economic and social development – sustainable development, poverty, inclusion, demographics, social sector initiative, etc.
General issues on environmental ecology, bio-diversity and climate Change – that do not require subject specialization.General Science.
Paper – 2 Aptitude
Comprehension
Interpersonal skill including communication skills
Logical reasoning and analytical ability
Decision making and problem solving
General mental ability
English Language comprehension skills (Class X level).
Basic numeracy (numbers and their relations, orders of magnitude etc (Class X level), Data interpretation (charts, graphs, tables, data sufficiency etc. – Class X level)
SPIPA UPSC CSE Entrance Exam 2022 Question Paper
It is strategically located in the heart of Ahmedabad, the development hub of Gujarat. Its specialized need based training programs are diverse and interactive. SPIPA also boasts of distinguished alumni serving the country in their respective fields and enjoying satisfying careers. All in all, it is a focused institution characterized by dynamism and commitment to its objectives.
Exam Name: Entrance Exam for Training of UPSC Civil Services (IAS, IPS, IFS etc.) Exam 2023
Exam Date: 24-07-2022
SPIPA UPSC CSE Entrance Exam 2022 Links