SSA E Content Std 5 to 8 : Today the entire world is moving speedily towards digitization and we have to learn new things using new technologies. The evolution of computers especially the internet has affected all spheres of our life. Ten to fifteen years back we used to spend our time in the library for information in books, magazines and journals.
SSA E Content Std 5 to 8
Now a day we search for the information in the web sites. Access to information has become very easy because of information sharing on World Wide Web (www). Quality of teaching and students' learning are determined by the teachers who teach them. Well trained teachers with required knowledge, skills and commitment can develop scientific and critical thinking, promote tolerance, and develop cultural and social values in them.
Innovative technologies will make it possible to achieve these by providing new ways to teachers. But these new technologies are placing more demands on teachers to learn how to use them in their teaching and learning processes. This great transformation is posing challenges to teachers and teacher educators in using technologies in creative and productive ways. Hence, we as teachers have to meet these new challenges by continuously acquiring new knowledge and skills to discharge our duties effectively.
Also Read : GSET 2021 – Gujarat State Eligibility Test Apply for Assistant Professor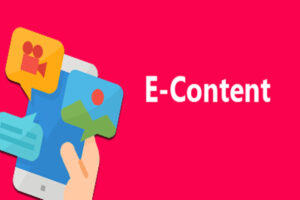 Also Read : Gyansetu Bridge Course Std. 1 to 10 | Download Full Material From Here
SSA E Content Std 5 to 8
ICT can offer tremendous opportunities for capturing, storing, disseminating and communicating a wide variety of information. Rapid expansion of knowledge and availability of variety of ICT has made knowledge, inclusion and integration of ICT in teaching and learning inevitable for us now. Moreover, ICT can promote international collaboration and networking in education and provide more flexible and effective ways for professional development. It can also help in pre-service and in-service teacher training programs. You have studied about various ICTs in the earlier units and you will be learning about e-content and Open Educational Resources in this unit.
This unit aims at making you understand the meaning, designing and development of e-content. You will also understand the standards of e-content, learning objects, re-usability of e-content and authoring tools. In this unit you will also learn about open educational resources, meaning and importance, various OER initiatives and creative common licensing.
SSA E Content Std 5 to 8
The concept of Smart School project focuses on enhanced interactivity in a classroom using Information and Communication Technologies (ICTs) and Multimedia based resources as well as comprehensive development of school in pedagogic and infrastructural context, like availability of proper rooms, network connectivity, security of school premises, maintenance of infrastructure, use of building components in learning, activity based learning etc. Providing for these components will be taken care of in the programme for improvement of educational opportunities and facilities.
E-content is becoming popular because of it's flexibility of time, place and pace of learning. E-content includes all kinds of content created and delivered through various electronic media. E-content is available in many subjects and almost all levels of education. It can be used by wide variety learners with diverse needs, different backgrounds, and previous experience and skill levels. It can be shared and transmitted easily and promptly among unlimited number of users around the world.
SSA E Content Std 5 to 8
Teachers, students and others get benefited by the use of well designed and developed e-content. It is advantageous to the educational organizations to make their program accessible to their teachers and students on campus, home and other community learning or resource centers.  It has a significant implications for open and distance learning institutions.
The purpose of e-content development is to create an information rich society. Every one in the society is empowered to create, receive, share and utilize information for their progress. Very well designed, developed and validated e-content will provide access to high quality meaningful digital content and serve as an effective virtual teacher.
SSA E Content Std 5 to 8
Also Read : 
Gyansetu Bridge Course Std. 1 to 10 | Download Full Material From Here