SSC CGL Answer Key 2021 : The official SSC CGL Answer Key 2021 for SSC CGL Tier-1 has been released by the Commission on 02 September 2021. SSC CGL Tier-1 2021 Exam for Combined Graduate Level was conducted from 13 to 24 August 2021 at different centres across the country. SSC releases SSC CGL provisional answer key first followed by the result and final answer key for each stage of the SSC CGL Exam. Go through the below section for the SSC CGL Answer key link, how to calculate SSC CGL Tier 1 marks and steps to challenge the SSC CGL answer key.
SSC CGL Answer Key 2021
Every year SSC CGL Exam is conducted for lakhs of candidates providing them opportunities in various Government Ministries, Departments and Offices for Grade "B" and "C" categories posts. Lakhs of candidates who have appeared in the SSC CGL Tier-1 exam can now check whether they have cleared this attempt or not. The provisional SSC CGL Answer Key 2021 is helpful to give a rough idea to the candidates for how many marks they score in the exam. The candidates can also raise objections to any question/answer in the provisional SSC CGL Answer Key 2021.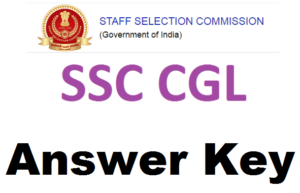 Check here important details about SSC CGL Tier 1 Answer key 2021 PDF first. Candidates need to download it as soon as it get released on the official web portal. The window for submitting SSC CGL Tier 1 Objections or Response Challenge will be only for one day. Those who are pretty sure that SSC CGL tier 1 Provisional Answer key any question answer is incorrect can fill the objection form. Remember that on submitting the objection form for the same you need to pay 100 Rupees for one challenging one question.
Also Check : PSI Exam Old Question Papers – Download Gujarat PSI Exam Papers
SSC CGL Answer Key 2021
For instance if you think any two or three question have been in correctly shown up in the SSC CGL answer key, then you need to pay each 100 rupees for the question. Only online payments for the same will be accepted. Those candidates who will submit the objects after the date and time mentioned on portal, will not be accepted by the authorities.
SSC CGL Answer Key 2021: Important Dates
Events
Dates 
SSC CGL 2021 Tier-I Exam
13 to 24 August 2021
SSC CGL Tier-I Answer Key
02 September 2021
Dates to Raise Objection
02 to 07 September 2021 (6 pm)
SSC CGL Tier-1 Final Answer Key
To be notified
SSC CGL Tier-I Result
To be notified
SSC CGL Tier-II & Tier-III Exam Date
To be notified
There are post examination the candidate always worried about their marks evaluation. The Commission is firstly releases the Provisional answer key and response sheet, so that aspirants match their question answer can calculate marks. As you know that its always important to know more about the SSC CGL Answer Key 2021 so here are important points about it.
SSC CGL Answer Key 2021
Staff Selection Commission will release first provisional answer key then final answer key will be released.
The Combined Graduate Level Exam will have four tiers in total. For each examination, separate Answer key will be released.
Those who are searching SSC CGL Answer key 2021 Set wise need to look to the below given points.
Candidates can easily calculate the sum of marks which they can probably get as scores in CBT online Exam through answer key.
Along with Answer key the Question paper response sheet is also provided, so that the candidates may also get detailed verifications of question answers.
The Answer Key of TIER 1 CGL Exam 2021 along with Question paper available at ssc.nic.in official website only. A candidates can also raise objections or challenge question answer. Stay tuned for more updates.
SSC CGL Answer Key 2021
"Representations in respect of the tentative Answer Keys, if any, may be submitted online from 02.09.2021 (6:00 PM) to 07.09.2021 (6:00 PM) on payment of Rs. 100/- per question/answer challenged. Representations received after 6:00 PM on 07.09.2021 will not be entertained under any circumstances," reads the official notification.
Important Links:
Tentative Answer Keys along with Candidates' Response Sheet (s)