TAT Exam Syllabus 2023 TET and TAT exams are conducted to become a teacher in schools. In which to become a teacher of class 1 to 8 one has to pass the TET exam. While Dhoran has to clear the TAT exam to become a 9th to 12th teacher. According to the new education policy, the TAT exam pattern taken to become a teacher in class 9 to 12 has been changed. Let's know what has been changed in TAT Exam Pattern?
Previously, aspiring teachers were able to qualify for high school teaching positions with just one TAT examination. However, the Education Department has recently introduced a new two-stage examination system for becoming a teacher in grades 9-12. This means that candidates will now be required to take both a preliminary exam and a main exam.
Also Read : TAT 1(S) મેન્સ સિલેબસ ડાઉનલોડ કરવા માટે અહી ક્લિક કરો નવો સ્પષ્ટતા સાથે નો સિલેબસ 
TAT Exam Syllabus 2023
The Education Department has officially announced this change, which will now be the basis for all future teacher recruitment. Candidates must first pass the preliminary exam, and then the main exam will be conducted based on their merit.
It is likely that the exam will be scheduled for either late May or early June. Since 2012, the state education department has administered a 200-mark multiple-choice teacher aptitude test for individuals seeking to become teachers for classes 9 through 12. Passing this exam was a requirement to be considered eligible for a teaching position in a school.
Also Read :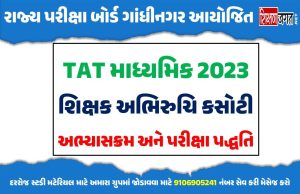 TAT Exam Syllabus 2023
| | |
| --- | --- |
| Organization Name | Gujarat State Examination Board |
| Exam Name | Teacher Aptitude Test – TAT |
| Department | Secondary |
| Post Category | Syllabus & Exam Pattern |
| Type of Job | Secondary(High School) Teacher |
However, in accordance with the new education policy, which prioritizes teaching vocational skills to students, the education department has decided to alter the teacher examination system to enable the recruitment of more qualified teachers. As a result, the Teacher Aptitude Test (TAT) has undergone modifications. Going forward, this examination will be split into two categories, similar to Class-II employees.
The government has also released a resolution outlining the changes made to the TAT examination system. The Secondary Teacher Aptitude Test will be conducted for candidates interested in teaching classes 9 and 10, while the Higher Secondary Teacher Aptitude Test will be administered for those interested in teaching classes 11 and 12. Candidates who pass both exams will be able to apply for teaching positions in both categories.
TAT Exam Syllabus 2023 & Pattern
The TAT exam will consist of a preliminary exam comprising multiple-choice questions, with a total of 200 marks. The first section, worth 100 marks, will be the same for all candidates. In the second section, which is subject-specific, candidates will be required to answer questions related to their chosen subject. Negative marking of 0.25 marks will be applied for wrong answers in the MCQ-based evaluation.
Candidates who meet the cutoff score in the preliminary exam will be eligible to take the mains exam. The mains exam will consist of two descriptive written papers, each worth 100 marks. The first paper will test language proficiency in the candidate's medium of instruction, while the second paper will focus on content and methodology. Additionally, the government plans to establish four types of project schools, including Gnanasetu and Gnanshakti, in the coming academic year.
Furthermore, candidates who perform well in the TAT examination may also be selected as traveling teachers in areas where there is a shortage of teachers. According to the resolution, the merit list of candidates who pass the high school teacher examination will remain valid until the next examination is conducted.
TAT Exam Syllabus 2023 Link
TAT 1(S) મેન્સ સિલેબસ ડાઉનલોડ કરવા માટે અહી ક્લિક કરો નવો સ્પષ્ટતા સાથે નો સિલેબસ