6 To 8 Gujarati MCQ The TET exam, or Teacher Eligibility Test, is an entrance examination for teachers in India. The exam tests the eligibility of candidates to become teachers in primary and secondary schools. To prepare for the TET exam, candidates can refer to various study materials such as textbooks, previous years' question papers, sample papers, and online study material.
It is essential to cover all the topics in the syllabus thoroughly and revise them regularly. Candidates can also join coaching classes or online courses to get additional guidance and support in their preparation. Many websites and mobile applications also offer TET exam preparation materials, such as mock tests, quizzes, and study materials, which can be helpful for candidates.
6 To 8 Gujarati MCQ
It is recommended that candidates follow a structured study plan and allot sufficient time for each topic to ensure that they have covered all the subjects. Regular practice and self-assessment can help candidates to identify their weak areas and work on improving them.
ShikshanJagat is a popular educational website in India that provides information and resources related to education, including job notifications, exam updates, study materials, and career guidance. The website offers a range of resources and services for students, teachers, and job seekers, including news and updates related to various exams such as the TET, CTET, NET, and SET. It also provides study materials such as mock tests, previous year question papers, and exam syllabus for these exams.
6 To 8 Gujarati MCQ
ShikshanJagat also has a dedicated section for career guidance, which provides information about different career options, eligibility criteria, and job opportunities in various fields. The website also provides information on government job vacancies, including teaching jobs, and assists job seekers in applying for these vacancies by providing relevant information, such as the application process, eligibility criteria, and exam pattern.
Also Read :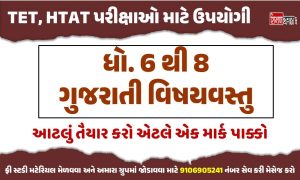 Overall, ShikshanJagat is a useful resource for anyone seeking information and guidance related to education and career in India.
6 To 8 Gujarati MCQ PDF
Here is standard 6 to 8 Gujarati subject 120 MCQ for upcoming TET, TAT and HTAT Exams. Candidates are requested to download this PDF from below link and start preparing for above said exams.