Cyber Safe Girl : Cyber Safe Campus a unique program under the aegis of the national project Cyber Safe Girl – Beti Bachao Cyber Crime Se' has received overwhelming support last year when delivered on campus at various institutions. However, we are keen to educate young students nationwide on cybercrimes and hence this eLearning program.
Also Read : Photomath App | Become a Math Expert
Cyber Safe Girl
Chief Minister Bhupendra Patel Monday inaugurated the 'Cyber Safe Mission', an Ahmedabad City Police initiative that aims to create awareness against the ever-evolving world of cyber crimes and ways to prevent financial frauds and other online attacks.
In addition to unveiling a book — 'Cyber Safe Girl', authored by cyber safety expert Dr Anant Prabhu G — on the safety of women in cyberspace, the CM also inaugurated a website, http://www.cybersafeahmedabad.org, developed for the Ahmedabad Cyber Crime Cell.
Also Read : Good Running App for Android | GPS Run Tracker 2021
Cyber Safe Girl
"The Gujarat police have been using the latest technology and equipment to thwart instances of cybercrimes as they happen in real-time. The proactive approach of policing has saved several people from becoming victims of several kinds of cybercrimes. Today is the age of cell phones and the internet, and with their rising use, a large number of people have also been falling victims to nefarious elements who commit fraud. A public awareness campaign is required against cyber crimes and initiatives such as 'Cyber Safe Mission' could be a medium for the same. The more people are aware, the better are the chances of their online safety," said Patel.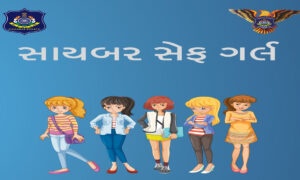 Cyber safety manuals like these may be responding to the rise in cybercrimes against women in India over the last few years, coinciding with the increasing presence of women and girls in online spaces. Between 2018 and 2019, there was a 63.5 percent increase in the number of registered cybercrime cases in India, with the state of Karnataka topping the list. According to the latest data from National Crime Records Bureau, at 2,698 reported cases, Karnataka also registered the highest number of cybercrimes against women in 2019.
Paradoxically, the state has the dubious reputation of zero convictions for cybercrimes in the past. The situation worsened during the nationwide lockdown imposed in the aftermath of the Covid-19 pandemic, with a further escalation in crimes against women, cyber and otherwise, across the country.
Cyber Safe Girl
In this context, an easily-digestible guide to understanding cyber safety may have been a welcome addition. However, from the title to the 30 scenarios included, this particular booklet gets quite a few things wrong. For instance, the subtitle of the e-book, "Beti Bachao, Cyber Crime Se", which translates into "Save the Daughter, From Cyber Crime" uses the reductive albeit common patriarchal trope of framing women's safety in terms of their relationships within the family, their identities constructed and understood in relation to the people around them.
Furthermore, its messaging seems to be directed as much at family members — parents or guardians — who are purportedly responsible for the protection of their daughters, as women themselves. This is particularly notable given that the book credits a group of predominantly male police officers, thus foregrounding a male perspective on women's safety while largely ignoring women's voices and their lived experiences. In addition, the title of the book patronizingly uses the term 'girl' despite featuring sketches that include women of all ages. In fact, it does not address cyber safety issues experienced by children at all.
Cyber Safe Girl
In sketches such as "Call Spoofing" and "Cyber Vultures", the book uses clichéd sexist and ageist stereotypes. Older or widowed women are portrayed as more susceptible to cybercrime, even though multiple studies have overturned such assumptions. But it is not so much the individual scenarios themselves, but the way that the book presents and positions these scenarios that is particularly problematic. Many of the incidents mentioned in the book are not specific to women, and yet, the book seems to suggest that women need to take additional precautions to make themselves safe when accessing online spaces.
This is not to say that women do not experience cybercrimes or a disproportionately more hostile online space on account of their gender and other intersecting social identities. However, some of the solutions offered by the book — such as installing and updating anti-virus software, creating strong passwords, and being wary of phishing emails and messages — are practices that all internet users need to be aware of, regardless of their gender identity.