Cyclone Tauktae LIVE Updates : Cyclone Tauktae is 'very likely' to hit the coast of Gujarat around May 18, the IMD alerted. The cyclone intensified into a cyclonic storm this morning, severe floods have been predicted for Tamil Nadu and Kerala, while several other states are also likely to be hit. The Central Water Commission (CWC) on Saturday issued an 'orange bulletin' for Kerala and Tamil Nadu, predicting a severe flood situation. Water levels are likely to reach 'danger' and highest flood levels, the CWC said.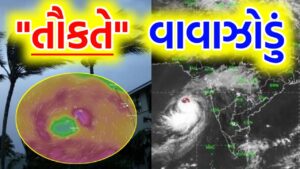 Cyclone Tauktae LIVE Updates 
Cyclone Tauktae – which intensified into a 'extremely severe cyclonic storm' early this morning – is currently 160 km south-southwest of Mumbai and is "very likely" to reach the Gujarat coast this evening with gusts of up to 200 km per hour, the weather department has said.
આ પણ જુવો : Easy Steps for COVID-19 Vaccination Registration Process
Gusty winds and rains lashed Mumbai and its neighbouring areas overnight and on Monday morning as the "very severe cyclonic storm" Tauktae was heading towards Gujarat, officials said. There was no water-logging anywhere in the metropolis, but trees were uprooted at several places, they said, adding that no casualty was reported so far.
આ પણ જુવો : Live Temple Darshan Gujarat | Most Visited 8 Temple Online Darshan
જાણો વાવાઝોડા સમયે બંદર પર લાગતા વિવિધ નંબરના સિગ્નલનો શું થાય છે અર્થ
1 નંબરનું સિગ્નલ
હવા તોફાની નથી. વાવાઝોડું આવશે કે નહીં તેની નિશાની હોય છે. પવનની ગતિ 1-5 કિમી
2 નંબરનું સિગ્નલ
વાવાઝોડું સક્રિય થયું છે. આ નંબરનું સિગ્નલ દર્શાવે છે કે દરિયામાં જતી હોડીને સમુદ્રી બળનો સામનો કરવો પડશે. પવનની ગતિ 6થી 12 કિમી
3 નંબરનું સિગ્નલ
હવાથી બંદર ભયમાં છે. પવનની ગતિ 13થી 20 કિમી
4 નંબરનું સિગ્નલ
વાવાઝોડાના કારણે બંદર જોખમમાં છે. પરંતુ જોખમ એટલું  ગંભીર નથી કે જેના માટે કોઈ સાવચેતીના પગલા લેવા પડે. પવનની ગતિ 21થી 29 કિમી
5 નંબરનું સિગ્નલ
સાધારણ પ્રકારનું વાવાઝોડું બંદરથી પસાર થવાની સંભાવ છે. જેથી બંદર પર ભારે પવન ફુંકાવાની સંભાવના છે. પવનની ગતિ 30થી 39 કિમી
6 નંબરનું સિગ્નલ
વાવાઝોડું બંદરની ઉતર દિશા તરફનો કિનારાઓ ઓળંગવાની સંભાવના જેથી બંદર ઉપર અતિભારે પવન ફુંકાઈ શકે છે. પવનની ગતિ 40થી 49 કિમી
7 નંબરનું સિગ્નલ (ભય)
બંદરને ભારે તોફાની પવનનો સામનો કરવો પડશે. પવનની ગતિ 50થી 61 કિમી
8 નંબરનું સિગ્નલ
ભારે જોરવાળું વાવાઝોડું પસાર થવું જેથી બંદરે તોફાની પવનનો અનુભવ થાય. પવનની ગતિ 62થી 74 કિમી
9 નંબરનું સિગ્નલ
બંદરને ભારે તોફાની પવનનો અનુભવ થવાની શક્યતા છે. પવનની ગતિ 75થી 88 કિમી
10 નંબરનું સિગ્નલ
ભારે જોરવાળું વાવાઝોડું  બંદર ઉપર થઈને પસાર થવાની શક્યતા છે. આ સ્થિતિ મહાભય દર્શાવે છે.  પવનની ગતિ 89થી 102 કિમી
11 નંબરનું સિગ્નલ
અત્યંત ભયંકર પવન ફુંકાવાની શક્યતા, તાર વ્યવહાર બંધ થાય, ખુબ જ ખરાબ હવામાનનો અનુભવ થઈ શકે છે. આ સિગ્નલ અત્યંત ભયજનક ગણાય. પવનની ગતિ 103થી 118 કિમી અને સમુદ્રમાં વિઝિબલીટી ઝીરો
12 નંબરનું સિગ્નલ
પવનની ઝડપ 119થી 220 કિમી
Cyclone Tauktae LIVE Updates 
In view of the high speed winds, the Bandra-Worli sea-link was closed for traffic and people were asked to take alternate routes, a senior official of the Brihanmumbai Municipal Corporation (BMC) said.
Local trains services of the Central Railway were disrupted between suburban Ghatkopar and Vikhroli as a tree branch fell on a train heading towards neighbouring Thane, a railway spokesperson said.
Windspeed warnings – 120-140 km per hour with gusts up to 165 km per hour – have also been issued for Bharuch and south Ahmedabad. Similar warnings – 90-100 km per hour with gusts up to 120 km per hour – have also been sounded in Devbhoomi Dwarka, Jamnagar, Rajkot, Morbi and Kheda for early Tuesday.
તૌકતે વાવાઝોડા સામે તંત્રનું એલર્ટ, શું કરશો અને શું નહી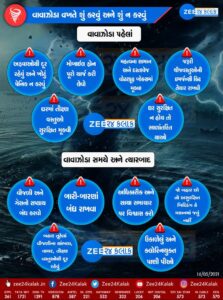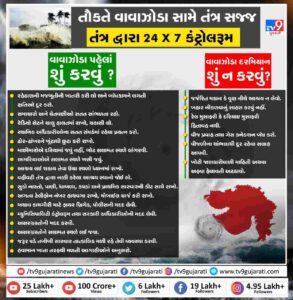 An estimated 1.5 lakh people are being shifted from low-lying coastal areas in Gujarat while 54 teams of the NDRF and SDRF remained deployed on Sunday in view of the IMD's warning that the very severe cyclonic storm Tauktae will reach the state coast on Monday evening and cross it on early Tuesday morning.
Cyclone Tauktae LIVE Updates 
Home Minister Amit Shah reviewed the preparedness for Cyclone Tauktae in Gujarat, Maharashtra and two Union territories on Sunday and "specifically" stressed that all health facilities, including those for COVID-19 treatment, falling in the affected areas should be secured along with the patients
"With the cyclone likely to affect power supply, hospitals treating COVID-19 patients have been asked to ensure power back-up. Arrangements have also been made to ensure uninterrupted generation of medical oxygen in the eight manufacturing units and buffer stock is also created," Gujarat Chief Minister Vijay Rupani said.
Cyclone Tauktae LIVE Updates 
જાણો કયા નંબરના સિગ્નલનો શું થાય છે અર્થ?
ગુજરાતી ન્યુઝ રીપોર્ટ અહીંથી વાંચો
સંભવિત વાવાઝોડું અંગે ઓફિસિયલ લેટર
અહીંથી જુઓ હવામાન ની LIVE સ્થિતી
અહીં ક્લિક કરી વાવાઝોડું Zoom કરી જોઈ શકો