Educational Short Forms : Education is the most important tool to change human life which provides knowledge, skill, technique, and information. Education is needed for the evolution, growth, and development of a country. Education helps us to become good human beings and gives us knowledge of the world around us. Hence, the education-related full forms create a meaningful and strong impact on our lives.
Educational Short Forms
In the modern, industrialized world, education plays a huge and important role. Education not only improves knowledge and skills but also develops the personality of an individual. In this competitive world, a good education is needed to survive. Good knowledge of educational terms is helpful to peoples.
Nowadays, Education is not limited to schools, colleges, and universities. A child receives education from both inside the school, institution, home, and from outside society environment. There are mainly three types of education are Formal education, Non-formal education, and Informal education.
Gyanparab Magazine PDF | Download all PDF at Ones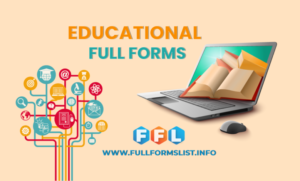 Educational Short Forms
Education helps to create more employment opportunities. A highly educated person finds more and better employment opportunities than a low educated or illiterate person.
Education helps to connect and communicate digitally across the world with people from other cultures.
Education gives security and safety against crime. An educated person enjoys healthy relationships in life and he will not be fooled by anyone easily.
Education helps in removing poverty. Lack of education is one of the reason leads to poverty. if someone is educated, he could get an excellent job and fulfill the basic needs & requirements of his family.
Education helps to empower women, as well. With the power of education, women can raise their voices against injustice like Dowry System, Not Remarrying Widows, etc.
We use many shorts forms in the education sector. Some of the examples are – various certificate/ course/ degree names that are acronymized such as MBA is used for Master in Business Administration, PGDCA is used for Post Graduate Diploma in Computer Application. Short forms are also used in the name of Institution names such as IIT for Indian Institute Of Technology, etc.
Also Check :
Educational Short Forms
An abbreviation is a shortened type of a word or a sentence. It may refer to the group of letters or words captured from the word or phrase in its entirety.There are several words used in the short form and it is essential to know the full forms of those words. In all fields, including science, education, computer technology, examination and banking, abbreviations are used. Abbreviations are so well developed in usage that the complete forms are not known by many. Abbreviations save both time and energy, but it is better to know the full forms to grasp the necessary knowledge. Let us understand how full form helps in many sectors.
Educational Short Forms
શિક્ષણજગતના WHATSAPP ગ્રુપમાં જોઈન થવા નીચે આપેલ LINK પર ક્લિક કરો. ખાસ ધ્યાન રાખજો કે કોઈ પણ એક જ ગ્રુપમાં જોઈન થશો અને અગાઉ અમારા ગ્રુપમાં હોય તો જોઈન ન થવા વિનંતી.
ગ્રુપ ૧ લિંક   |  ગ્રુપ ૨ લિંક  |  ગ્રુપ ૩ લિંક  |   ગ્રુપ ૪ લિંક   |  ગ્રુપ ૫ લિંક  |  ગ્રુપ ૬ લિંક
(બ્લોગર મિત્રોને નમ્ર અરજ કે આ પોસ્ટ ડાયરેક્ટ શેર ન કરતા બેક લિંક આપી શેર કરશો…આભાર અને સહકારની અપેક્ષા સહ)
શિક્ષણ સાથે સંકળાયેલ એજ્યુકેશન શોર્ટ નામ ડાઉનલોડ કરવા અહી ક્લિક કરો.