Ekam Kasoti Time Table : The Unit Test is conducted by Gujarat Education Department And GCERT on Every Saturday in Primary and Secondary-Higher secondary schools. Ekam Kasoti Time Table is most important thing for the students and teachers. Here we are putting every months Ekam Kasoti Time Table for acknowledgement.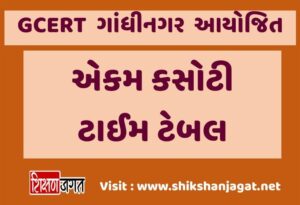 Gujarat government and GCERT is always striving to improve the education in primary and secondary school students. Ekam kasoti is Gujarat Education department initiative which is very successful from last two years. In order to make elementary education effective Gujarat Education Department is doing all new initiative.
ડાઉનલોડ સપ્ટેમ્બર એકમ કસોટી ટાઈમ ટેબલ / પરિપત્ર
Ekam Kasoti Time Table : AUGUST 2021 PDF
Here is April 2021 Ekam kasoti time table pdf for students, that will help them for preparation. In this PDF students will find that which subject and units will be asked in April 2021 ekam kasoti. Students and Teachers can download Ekam Kasoti Time Table From below given link.
Regarding the test to be taken as per the routine in April 2021, it is requested to take further action from your level keeping in view the following matters.  In the month of April, Gujarati (first language) and Mathematics in Std. 4 to 8, Evs Will be taken in Std. 3.  It is to be noted here that the date of education department.  As per the resolution dated 08/04/2021, Gujarati (first language), mathematics, EVS subjects have to be tested equally.
ડાઉનલોડ ઓગસ્ટ 2021 એકમ કસોટી ટાઈમ ટેબલ / પરિપત્ર
ધોરણ 3 થી ૫ એકમ કસોટી જુલાઈ ૨૦૨૧ ગુણાંકન પત્રક EXCEL File
ધોરણ ૬ થી ૮ એકમ કસોટી જુલાઈ ૨૦૨૧ ગુણાંકન પત્રક EXCEL File
Ekam Kasoti Time Table : AUGUST 2021 PDF
Self-supporting and grant-aided schools can voluntarily take tests of subjects that are in addition to these four subjects this month.  Gujarati (second language) instead of English in English medium and Gujarati (second language) instead of Hindi in Hindi medium will be tested. The above periodic evaluation tests  To be held from 27/04/2021 to 28/04/2021.  Special instructions regarding implementation of the test will be given later if required.
Also Check : Home Learning Time Table | Download 1st April 2021 To 15th April PDF
Important Dates For AUGUST Ekam Kasoti 2021
This all ekam kasoti question papers will be available on official website of GCERT on  and students can also download from their textbook's index by scanning QR Code. Ekam Kasoti is Evolution of Learning Outcomes which are taught in subject. Teachers are requested to click on below link to download AUGUST 2021 Ekam Kasoti Time Table PDF.
Download July STD 9 to 12 2021 Ekam Kasoti Time Table PDF
The Gujarat government on Saturday announced reopening of schools for students of Classes 6 to 8 from February 18.Attendance will not be compulsory for students, though, and online classes will continue.
Gujarat School Time Related Latest Paripatra
Post Name :- Gujarat School Time
Category :- Educational
Portal :- shikshanjagat
Post Date :- 02/07/2021
IMPORTANT LINKS
શાળા સમય બાબત સવારનો કરવા બાબત
જુલાઈ માસ ધોરણ ૩ થી ૮ એકમ કસોટી આયોજન પરિપત્ર માટે અહી ક્લિક કરો.
ડાઉનલોડ ઓગસ્ટ 2021 એકમ કસોટી ટાઈમ ટેબલ / પરિપત્ર
ઓગષ્ટ ૨૦૨૧ એકમ કસોટી સુધારા પરિપત્ર
ધોરણ ૬ થી ૮ એકમ કસોટી જુલાઈ ૨૦૨૧ ગુણાંકન પત્રક EXCEL File
ધોરણ 3 થી ૫ એકમ કસોટી જુલાઈ ૨૦૨૧ ગુણાંકન પત્રક EXCEL File
 ડાઉનલોડ સપ્ટેમ્બર એકમ કસોટી ટાઈમ ટેબલ / પરિપત્ર
ડાઉનલોડ ઓક્ટોબર એકમ કસોટી ટાઈમ ટેબલ / પરિપત્ર
દ્વિતીય સત્ર 2021 એકમ કસોટી ટાઈમ ટેબલ ડાઉનલોડ કરો