G-Shala Mobile App Registration STD 1 to 12 : Gujarat – Students' Holistic Adaptive Learning App is an eContent App for Standard 1 to 12 embedded on Learning Management System (LMS). G-Shala is designed & developed by Gujarat Council of School Education, Samagra Shiksha, Education Department, Government of Gujarat based on Gujarat State Education Board (GSEB) syllabus.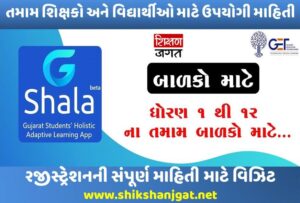 G-Shala Mobile App Registration STD 1 to 12
G-Shala is a platform-agnostic and device-independent App which provides digital interactive 2D/3D augmented e-Content mapped with textbooks for all the subjects, including Science & General streams in Std.11-12.
The G-Shala App also offers guided learning with reference/ supplementary materials, topics mapped with Learning Outcomes, virtual simulations for laboratory experimental simulations, pre-classroom modules for teachers, instructor Led videos as well as self-learning & self-assessment modules for students.
આ પણ જુવો : Gyansetu Bridge Course Std. 1 to 10 | Download Full Material From Here

આ પણ જુવો : STD 3 to 8 Sva Adhyayan Pothi | Download All Subject Books PDF
G-Shala Mobile App Registration STD 1 to 12 – Steps
सबसे पहले – प्ले स्टोर से G – SHALA ऐप डाउनलोड करें (इसका लिंक नीचे दिया गया है)
एप्लीकेशन डाउनलोड करने के बाद इसे ओपन करें
एप्लिकेशन खोलने के बाद, नीचे "साइन अप" के साथ एक डिस्प्ले मेनू दिखाई देगा। वहां क्लिक करें
साइन अप पर क्लिक करने से कुछ विवरण के साथ एक डिस्प्ले मेनू खुल जाएगा जिसे हमें मैन्युअल रूप से भरना होगा।
सबसे पहले चुनें कि मैं एक छात्र के रूप में कौन हूं
फिर नीचे बच्चे का UDISE नंबर (18 अंक) दर्ज करेंइसके बाद नीचे दिए गए "गेट डिटेल्स" ऑप्शन पर क्लिक करें जिससे बच्चे की सारी डिटेल अपने आप आ जाएगी
अब नीचे दिए गए बॉक्स में मोबाइल नंबर दर्ज करें और उसके नीचे पासवर्ड लिखा होगा आपको पासवर्ड बनाना है और इसे मैन्युअल रूप से दर्ज करना है और आखिरी बॉक्स में आपको वही पासवर्ड फिर से दर्ज करना है।
याद रखें आपको दोनों बॉक्स में एक ही पासवर्ड डालना है और उस पासवर्ड को याद रखना है।
अब नीचे दिए गए कैप्चा कोड को दर्ज करें और अंतिम विकल्प "साइन अप" पर क्लिक करें
अब एक बधाई संदेश प्रदर्शित होगा जो दर्शाता है कि आपने सफलतापूर्वक पंजीकरण कर लिया है।
अब फिर से आपको अपना वही मोबाइल नंबर और पासवर्ड दर्ज करना होगा (जो आपने पंजीकरण के समय दर्ज किया था) और कैप्चा कोड दर्ज करें तो आपका जी-शाला आवेदन शुरू हो जाएगा।
G-Shala Mobile App Registration STD 1 to 12
The online education system is now on the rise. In this case, electronic learning is the use of methodologies in the teaching and learning of information and communication technologies connected to the Earth Network. Which is associated with the development and use of ICT infrastructure.
G Shala app is for Teachers and Students: If we have the right kind of traveler, e-learning is possible for long enough anywhere, anytime. E-learning CD-ROM, a broadband network that can also be Internet-based, with information available in written country form: audio, animation and virtual environment.
G-Shala Mobile App Registration STD 1 to 12
Through which the study experiences obtained are often shown to be superior to the experiences found in a complete classroom. In this, the student learns according to her own speed and the study of the Elephant Handson Learning. There are also many limitations in e-learning, which we experience in classroom learning. For example, boring slides, monotonous speech, fewer opportunities for interaction, etc.
You just have to be more demanding with the help you give other people. In e learning, 'e' stands for electronics, a study based on equipment, systems, interconnections, technology, and electronic principles. Here e-learning is not limited only to study, it is also associated with teaching.
G-Shala Mobile App Registration STD 1 to 12
G-Shala Mobile App Download Link