GUJARAT BUDGET YEAR 2022 Gujarat Finance Minister Kanubhai Desai, on March 3, presented the annual budget for financial year 2022-23 before the state Assembly. FM Desai presented a Rs 2,43,965 crore budget in which a significant share has been allocated to the education department and several people-friendly measures have also been announced.
Also Check : Read Along (Bolo) App | Very Useful For Reading
As per the Budget announcement, now the senior citizens above the age of 80 years will receive an old age pension of Rs 1250 per month while those above 60 years will get Rs 1000. The PhD students will get financial assistance of Rs 1 lakh. Four thousand villages will also get free wi-fi connections, the FM announced.
Also Check : DiskDigger photo recovery 2021 | Recover Your Deleted Photos From Mobile
GUJARAT BUDGET YEAR 2022 Overview
Ahead of the budget presentation it was speculated that the government would announce more populist schemes as this the first budget under the Chief Minister Bhupendrabhai Patel and the state assembly election is scheduled to be held towards the end of this year. However, Gujarat Chief Minister Bhupendra Patel, before the presentation of the budget, said that the budget would be heavily people-oriented.
| | |
| --- | --- |
| State  | Gujarat |
| Document  | Gujarat Budget 2022-23 |
| Year  | 2022-23 |
| Status  | Available |
| Gujarat CM  | Shri Bhupendra Patel |
| Finance Minister  | Shri Kanubhai Desai |
| Principal Secretary | Shri J P Gupta (IAS) |
| Secretary (Economic Affairs) Commissioner of BPE & Ex-officio Secretary | Shri Milind Torawane (IAS) |
| Secretary (Expenditure) | Ms. Manisha Chandra (IAS) |
| Format  | Pdf |
| Medium  | English & Gujarati |
| Download link  | Gujarat Budget Official Link |
Chief Minister Shri Bhupendra Patel presented annual budget of Gujarat State for the financial year 2022 in the Gujarat Assembly, on 4th March 2022. It is the ninth budget presented as the Finance Minister of the state. With an increase of Rs. 9,742 Cr. Over the last budget proposal, this budget proposal totals to Rs. 2,27,029 Cr. It is Rs. 587.88 Cr. surplus budget, which is an indication that the state economy is on the recovery path after the impact of the COVID-19 pandemic.
Also Check :Oxford Dictionary English To Gujarati App | Download Best Dictionary For Mobile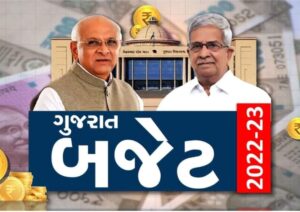 GUJARAT BUDGET YEAR 2022 Important Points
Here are some of the other major announcements for the agriculture sector under the Gujarat budget
— Subsidy of Rs 8300 crore to make agricultural connections available to farmers with subsidised power.
— Provision of Rs 2310 crore for schemes for crop husbandry.
— Rs 260 crore to provide subvention in purchasing various agricultural machinery including tractors.
— Rs 231 crore of the various projects to agriculture and allied sectors under Rashtriya Krishi Vikas Yojana.
— Rs 213 crore for maintenance of cows for the farmers who are engaged in organic farming entirely based on cows
— Allocation of Rs 142 crore for construction of small godowns on farms under Mukhya Mantri Pak Sangharsh Yojana
— Formation of Gujarat Prakrutik Krushi Vikas Board with the provision of Rs 100 crore for boosting organic farming in the state.
— Rs 100 crore budget for providing subvention to Agro and Food Processing units under the Sarvagrahi Krishi Vyavasay Niti.
— Rs 10 crore to promote "Sanedo", an agricultural implement, developed by local manufacturers of the state
— Additionally, the budget has also made provision of Rs 369 crore for the various scheme for horticulture under the Directorate of Horticulture.
GUJARAT BUDGET YEAR 2022 Details
The announcement for animal husbandry includes Rs 300 crore for interest relief to animal keepers on short term loans and Rs 500 crore to Gaushala, Panjrapole and Trust managed institutions for the preservation of cow and infrastructural facilities in Mukhyamantri Gaumata Poshan Yojana. The Gujarat budget for 2022-23 has made provision of Rs 880 crore for the development of fisheries in the state.
Government announced Van Bandhu Kalyan Yojana-2 with a substantial amount of Rs. 1 lakh crore for the next five years. Through this scheme, entire tribal population of 90 lakh in 5884 villages in 53 taluka of 14 districts will be assured of individual and community benefits with protection of their rights and cultural identity.
Sagar Khedu Sarvangee Vikas Yojana – 2 is announced for overall development of 70 lakh people living in 2702 villages of 39 talukas in 15 coastal districts with an outlay of Rs.50 thousand crores for the next five years.
New recruitment of 2 lakh eligible youth will be made in Government, Board Corporations and the Local Self Government offices, in next 5 years.
In the next 5 years, 20 lakh employment opportunities will be created in different sectors like manufacturing, pharmaceutical, energy, engineering, infrastructure, information and technology, tourism, hospitality, food processing, banking, and in various fields of the service sector
GUJARAT BUDGET YEAR 2022 PDF In Gujarati
Gujarat Budget 2022 PDF Download Link