Gujarat Local Body Election 2021 Results 2021 : Counting of the votes in the elections to Gujarat's 81 municipalities, 31 district panchayats and 231 taluka will begin on Tuesday. Over 60 per cent voter turnout was recorded in the elections that were held in a largely peaceful manner on Sunday, barring an incident of booth capturing and reports of clash as well as snags in EVMs at some places, officials said.
Gujarat Local Body Election 2021 Results 2021
As per the provisional figures, voter turnout of 54.95 per cent across 81 municipalities, 62.41 per cent in 31 district panchayats, and 63.42 per cent in 231 taluka panchayat, was recorded, the State Election Commission (SEC) said.
The average voting percentage across all these local bodies together was around 60.26 per cent, it said. There was an attempt to capture a booth at Ghodiya villagein Jhalod taluka of Dahod district after three persons forced their way inside and damaged two EVMs kept there.
For 8,235 seats, the BJP had fielded 8,161 candidates, Congress 7,778, Aam Aadmi Party (AAP) 2,090, among others, said the SEC. Apart from the traditional rivals- BJP and Congress-, AAP and Asaduddin Owaisi's AIMIM were also in the fray for local body polls in Gujarat this time.
Gandhinagar Municipal Corporation Election Result 2021
| | |
| --- | --- |
| Organization Name | State Election Commission, Gujarat |
| Election Name | Gandhinagar Mahanagar Palika Election |
| Poll Date | 3rd October 2021 (Sunday) |
| Result Date | 5th October 2021 (Tuesday) |
| Total Seat | 44 |
| Total Ward | 11 |
| Candidates | 162 |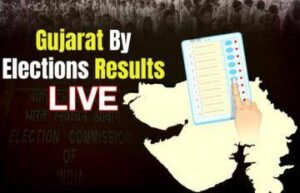 Gujarat Local Body Election 2021 Results 2021
By-elections were also held for two seats in taluka panchayats and 24 seats in municipalities. In the February 21 elections, the BJP won with a majority across all the six municipal corporations. There are a total 3.04 crore registered voters in the second phase election. Over 44,000 policemen, including State Reserve Police and 12 companies of CAPF, along with 54,000 homeguards have been deployed to ensure incident-free voting.
Where is the counting?
Government Science College, Sector 15 (Ward 1-2)
IIT, Sector 15 (Ward 3-4)
Commerce College, Sector 15 (Ward 5-6)
Swarnim Sports University (Ward 7-8)
Government College, Sector 15 (Ward 9-10-11)
Gujarat Local Body Election 2021 Results 2021
The final figures were released by the State Election Commission on Monday. Polls were held for 8,235 out of 8,474 seats as candidates were elected unopposed on 237 seats and no forms were submitted in two, SEC officials said. As per DD News Gujarati, the average turnout in municipal elections is 46.98 percent, 50.94 percent turnout in district panchayat elections, 53.37 percent turnout in taluka panchayats
District panchayats which went to the polls on Sunday saw a turnout of 40.38 percent till 3.30 pm while taluka panchayats reported 42.93 percent turnout, said reports.  Municipalities saw 39.95 percent turnout.
Gujarat deputy chief minister Nitin Patel cast his vote from the Kadi municipality in Mehsana district.
Various political leaders cast their votes in the local body elections underway in Gujarat. Congress' Arjun Modhwadia took to Twitter to say that he had exercised his franchise in Porbandar. Working president of the Gujarat Congress Hardik Patel too cast his vote in Ahmedabad's Viramgam.
According to reports, Leader of Opposition in the Gujarat Assembly Paresh Dhanani arrived to cast his vote on a cycle, carrying a gas cylinder and a sack of compost to register his protest against price rise.
In the first two hours of polling, seven percent turnout was recorded in the taluka panchayats, with Anand having the highest turnout at 8.9 percent and Porbandar the lowest at 6.7 percent, reports News18 Gujarati.
 A scuffle broke out between Congress supporters and police at Akhdol in Nadiad taluka of Kheda district, reports News18 Gujarati. Congress supporters took to the roads, chanting slogans against the police.
Gujarat Local Body Election 2021 Results 2021
Polling for 81 municipalities, 31 district panchayats and 231 taluka panchayats in Gujarat will take place on Sunday between 7 am to 6 pm, as per reports. The counting of votes will be held on 2 March, the State Election Commission has said.
The SEC officials said voting for 8,473 seats, comprising 2,720 in 680 wards in municipalities, 980 in district panchayats and 4,773 in taluka panchayats, will take place across 36,008 booths.
Some 3.04 crore people in the state are eligible to vote for these polls, and over 44,000 police personnel, including state reserve police units, 12, CAPF companies and 54,000 home guards, will be in place to ensure incident-free voting, they added.
Gujarat Local Body Election 2021 Results 2021
While the BJP has been the dominant force in the state for several years now, Congress believes the fuel price hikes and disenchantment of the people with the ruling party will help it make a comeback.
The Aam Aadmi Party, with 2,097 contestants, and Asaduddin Owaisi's All India Majlis-e-Ittehad-ul-Muslimeen (AIMIM), which has fielded candidates in minority-dominated seats in Godhra, Modasa and Bharuch municipalities, will look to challenge the state's two main parties.
Watch Live Result Here
Gandhinagar Mahanagar Palika Election Result 2021 Live