Pragna Material : The Pragna Approach has been implemented in all the elementary schools of Gujarat. For the Pragna to educate the group based children. Activity-Based Learning is a type of teaching where children learn at their own pace through various supervised activities. It is a more interactive and engaging method of teaching children. It allows for monitoring factors such as coordination, speech, motor skills and social skills amongst other important factors.
Pragna Material
It is a fun approach to learning since it boosts the development of the brain in children by providing constant stimulus by prompting them to respond. Activity-based learning is achieved mainly in three ways which are, experimentation, expression, and exploration. Continue reading this article to read more about activity-based learning for kids and how activity-based learning helps students?
ધોરણ ૧ અને ૨ ના પ્રજ્ઞા શિક્ષકો અને વિદ્યાર્થીઓ માટે ખુબ જ ઉપયોગી બાલ ભારતી દ્વારા પ્રકાશિત થયેલ પુસ્તકો
બાલ ભારતી દ્વારા પ્રકાશિત ગુજરાતી ધો.૧ ડાઉનલોડ કરવા માટે અહી ક્લિક કરો
બાલ ભારતી દ્વારા પ્રકાશિત ગણિત ધો.૧ ડાઉનલોડ કરવા માટે અહી ક્લિક કરો
બાલ ભારતી દ્વારા પ્રકાશિત ગુજરાતી ધો.૨ ડાઉનલોડ કરવા માટે અહી ક્લિક કરો
બાલ ભારતી દ્વારા પ્રકાશિત ગણિત ધો.૨ ડાઉનલોડ કરવા માટે અહી ક્લિક કરો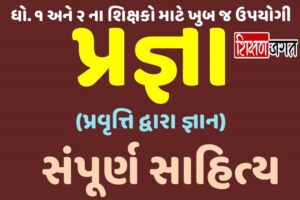 Activity-based learning is the process of learning by performing tasks or activities. As opposed to asking kids to simply listen and take notes, activity-based learning motivates students to participate in their own learning experience via practical activities such as independent investigation and problem-solving.
Pragna monthly planning & Varg Mulyankan patrako Gujarati, Maths class 1,2
Important Link
IMPORTANT LINKS
STD 1 વર્ગ મુલ્યાંકન પત્રક ગુજરાતી, ગણિત CLICK HERE
STD 2 વર્ગ મુલ્યાંકન પત્રક ગુજરાતી, ગણિત CLICK HERE
IMPORTANT LINKS
Monthly Planning Download PDF file here
Students Profile excel Click Here
Students Pragati Patrak
STD 1 excel Download Here
STD 2 excel Download Here
Pragna Sahitya Download Online Link from SSA GOVERNMENT WEBSITE.
Download Pragna Std 1 and Std 2 Study Materials Pdf from SSA website.
Pragna Material
By encouraging kids to explore, experiment and learn independently through activity-based techniques, parents and teachers seek to equip children with skills in critical analysis, problem-solving, and creativity.
Also Read : Gyansetu Bridge Course Std. 1 to 10 | Download Full Material From Here
Activity-based learning focuses on independent investigation and analysis. By asking kids to work on their own and/or in small groups, this teaching method encourages students to be independently inquisitive, think critically, and learn from their own experience. This self-directed learning process in turn supports their acquisition of knowledge outside (as well as inside) the educational environment.
Pragna Material
Activity-based learning encourages kids to take responsibility for their own learning experiences, working in groups also helps students develop social skills and teamwork. These skills will later prove important in their work and social life.
Kids don't always understand the relevance of their course material by simply putting pen to paper. Activity-based learning, on the other hand, helps kids understand the 'real-life' importance of their course material by encouraging them to explore and solve real problems and layouts.
Pragna Material
Activity-based learning encourages kids to be creative in the way they express their knowledge and thinking. The activity-based learning method provides students with the opportunity to express what they have learnt through the act of doing as well as through the act of presenting verbally.
Many times sitting in the same place can cause fatigue amongst students. Changing the environment can do wonders. From time to time, try going to another classroom or even better, make them sit under the tree while taking a class. Being in harmony with nature can give you and the students a refreshing change.
Pragna Material has been put in place for Pragna Standard 1 and 2. Based on which the teacher can easily explain to the children.The Pragna Approach has been implemented in all the elementary schools of Gujarat. For the Pragna to educate the group based children, here is a PDF of the Pragna material on Pragna with regard to Pragna that you have downloaded.
Pragna Material
Encouraging students to be interactive in class is the best way to get them involved. Teacher expressing that he or she loves to hear doubts no matter how silly they are is a very motivating factor for a student to pay attention to the lessons. If the students are not interactive during the class, it is better to have a separate question and answer session to get everyone talking.
Pragna varg Study Material STD 1-2
Pragna Shabd Diary [N, M ,G, J] : click here
Pragna word Diary [juo ane ghunto] : click here
Pragna Worksheet [gujarati] : click here
Pragna Mulaxar Pravrutti file : click here
Pragna Material [Meaning paragraph] : click here
Pragna Material [1 to 10 rang purani] : click here
Pragna Mega Material 2019-20