Gujarati Janiti Pankti Ane Kavi Gujarati literature means the literature written in Gujarati language by people living in Gujarat and of Gujarati origin. The history of Gujarati language dates back to around AD. It can be estimated up to the year 1000. The Gujarati language evolved from the Apabhram language spoken in various dialects across India. Its peculiarity is that literature flourished even though it had no patronage to any ruler other than its author.
Due to the development of commerce and trade in Gujarat, the dominance of Hinduism and Jainism, and the formation of a secure society by rulers such as Maharaja Siddharaj Jaisingh, the Chalukya dynasty (Solanki dynasty) and the Vaghela Rajputs, the 11th century produced a great deal of literature. Over time that literature came into the mainstream and became accepted and popular among the people of Gujarat.
Gujarati Janiti Pankti Ane Kavi
Over time, the general rules regarding creations and genres of literature were formulated and created in Gujarati literature. Today established literature is propagated by literary organizations like Gujarat Vidya Sabha, Gujarati Sahitya Sabha, Gujarat Sahitya Akadami, Gujarati Sahitya Parishad.
Literary creation in verse dominates this period of Gujarati literature. Verse has been created in various literary genres. Jain monks composed rasas or rasas which were a narrative poetic form. These rasas are considered to be the precursors of the Akhyana literary genre. Thus the story also fully flourished in this period. Garbo or garbi, a popular poetic form for experimentation in dance form, is also a product of this era.
Gujarati Janiti Pankti Ane Kavi
Phagu also flourished, describing the spring season cheerfully and full of beauty and love. Fagu type poetry describing each season and month flourished as a perennial. Prabhatiyan, Dhol, Kafi and Chabkha were created as variants of the post itself. Thus, medieval literature was created predominantly in Sugeya verse and it developed largely as an inheritance from Apabhramsha.
Also Check This :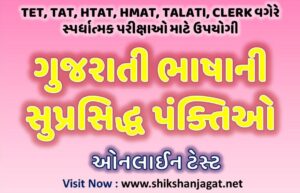 During the 15th century, Gujarati literature came under the dominance of the Bhakti sect, which was popularized against established religious beliefs. Narsingh Mehta (1415-1481) was considered the greatest poet of this period. The philosophy of monism, mysticism is glimpsed in his poems. His Govinda Gaman, Surat Sangram, Sudamacharitra and Shringarmala bespeak a poetic style rich in bhaktiras. Due to Narsingh Mehta's poetic style, his contemporaries and creators of ancient Gujarati literature were relegated to the background.
Gujarati Janiti Pankti Ane Kavi
During this period Jain and Hindu poets produced a large amount of Gujarati literature. Both prose and verse were created to promote religion and devotion. Gita, Mahabharata, Vedas and Bhagavata became popular as part of Hindu religious literature. Prayers and creations related to Jain history were also performed. Ramayana, Bhagavad Gita, Yogavasishtha and Panchatantra were translated into Gujarati. During this period there was a great Puranic revival which led to a rapid development of Bhaktiras verse in Gujarati literature. This period is divided into two sections, Saguna Bhakti Dhara and Nirguna Bhakti Dhara.
With the British occupation of India, the English curriculum, new printing techniques were developed. At the same time, newspapers and magazines started to be published and due to this, the society started to become aware. All these reasons led to an increase in the creation of literature and a diversification away from the ancient poetic style. Themes like social welfare, criticism, plays, ideology, patriotism, values of life began to appear in the creations of that time.
Gujarati Janiti Pankti Ane Kavi – ગુજરાતી સુપ્રસિદ્ધ પંક્તિઓ
Verse, considered the main vehicle of literature, also made room for the creation of prose literature. This period has been divided into different eras like the Reformer era or Narmad era, Pandit era or Govardhan era, Gandhi era, Successive era, Modern era and Postmodern era.