Gunotsav 2 O Online Test : Press Note Gujarat Education Department conducted Gunotsav to evaluate school and students of school. According to the official , Gunotsav Result 2018 Declared. Gunotsav School Certificate and Teacher Grade Available now at official website http://reportcard.gsqac-gunotsav.org. Download School Grade and Teacher Certificate through below link.
The Government of Gujarat has been organizing Gunotsav program for all government and grant aided schools since 2009. Given the implementation and results of the Merit Program for nine consecutive years, there has been a need to change the Merit Program.
Gunotsav 2 O Online Test
Primary education is the foundation on which the development of every citizen and the nation as a whole built on. In recent past, India's improved education system is often cited as one of the main contributors to the economic development of India. Gunotsav 2.O Result At the same time, the quality of elementary education in India has also been a major concern.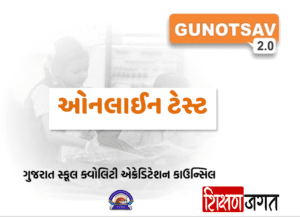 Also Read : શિક્ષક સજ્જતા સર્વેક્ષણ માટેનું સ્ટડી મટેરિયલ
Student of primary school at least have basic knowledge of reading, writing and simple mathematics equations which may be helpful in performing their daily activities. Gujarat Education Department conducted Gunotsav 2.O successfully on 2021. Teachers are worry about their performance after Gunotsav 2.O. teacher result Now in short time Gujarat Eucation Department announced Gunotsav.
ગુણોત્સવ ૨.૦ માર્ગદર્શિકા pdf અહિંથી ડાઉનલોડ કરો
Gunotsav 2 O Online Test
A committee was constituted under the chairmanship of retired Chief Secretary Shri Sudhir Mankad after Gunotsav-5 to consider intensifying the Gunotsav program by the state government which also made recommendations regarding short-term and long-term changes in the Gunotsav program.
The Gunotsav 20 was started in the year 2019 keeping in view the fact that if the school gets regular nutrition and help in its place, the quality of the school will increase and the opportunities for continuous improvement will increase. Gunotsav 2.O is being developed as a school accreditation program.
Upgrading the quotient program to Gunotsav 2.0 The following changes have been considered in the whole quotient process. Gunotsav2.0 aims to be consistently helpful in identifying areas for school improvement through school evaluation, taking into account the established standards in the world from a local perspective.
Gunotsav 2 O Online Test
Gunotsav 2.O is a quality enhancement initiative of the State for bringing about improvement in learning levels of students at Elementary level. Hon'ble Minister, Education, Gujarat has already announced the implementation of the programme in his budget speech. Assessment will done on four core areas viz Academic achievement of children of Class-1 to 8 , Co-scholastic activities, Availability and Utilization of School Infrastructure and other facilities and Community Participation.
Gunotsav 2 O Online Test
Organization Name: GSQAC
Program Name: Gunotsav
Category: Online Test
Official Website: http://reportcard.gsqac-gunotsav.org/
Gunotsav 2 O Online Test
Click Here to Download Gunotsav 2.O Report Card 2021
ગુણોત્સવ ૨.૦ માર્ગદર્શિકા pdf અહિંથી ડાઉનલોડ કરો