Gyansetu Bridge Course Patrako : Ministry of Human Resource Development, Government of India in 2018, launched Samagra Shiksha as an Integrated Scheme for School Education. Samagra Shiksha has emerged by the integration of – Centrally Sponsored Schemes of Sarva Shiksha Abhiyan (SSA), Rashtriya Madhyamik Shiksha Abhiyan (RMSA) and Teacher Education (TE).
Gyansetu Bridge Course Patrako
Samagra Shiksha aims to provide inclusive and equitable quality education to all children from the age of 4 to 18 years and at all levels of school education from Pre-school to Senior Secondary in the country in accordance with UN Sustainable Development Goals (SDG-4) for Education.
કોરોના ઘટી ગયો છે ત્યારે ગુજરાતમાં હવે સ્કૂલો ખોલવા અંગે CM રૂપાણીનું આવ્યું મોટું નિવેદન
રાજ્યમાં શાળા શરૂ કરવા અંગે મુખ્યમંત્રી વિજય રૂપાણીએ સ્પષ્ટતા કરી કે, શિક્ષણ ચાલુ કરવા સરકાર તૈયારી કરી રહી છે પણ હાલ સ્કૂલ ખોલવામાં ઉતાવળ નહી કરીએ
ગુજરાતમાં શિક્ષણ ચાલુ કરવા સરકાર તૈયારી કરી રહી છે. પણ હાલ રાજ્યમાં શાળાઓ ખોલવા અંગે કોઇ ઉતાવળ કરવામાં આવશે નહીં. રાજ્યમાં શાળા શરૂ કરવા અંગે મુખ્યમંત્રી વિજય રૂપાણીએ સ્પષ્ટતા કરી છે. તેમણે કહ્યું કે, શિક્ષણ ચાલુ કરવા સરકાર તૈયારી કરી રહી છે. પણ હાલ સ્કૂલ ખોલવામાં ઉતાવળ નહી કરીએ. કોરોના કેસ ઘટતા તબક્કાવાર ચાલુ કરીશું. વિદ્યાર્થીઓની સલમાતી રહે તે જરૂરી છે.
વિગતવાર સમાચાર અને મુખ્યમંત્રીનો વિડીયો જોવા અહી ક્લિક કરો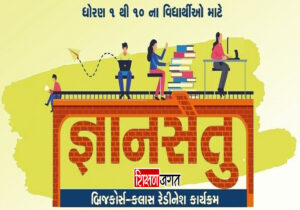 બ્રીજકોર્સ દરમિયાન શિક્ષકે નિભાવવાના પત્રકો EXCEL માં ડાઉનલોડ કરવા અહી ક્લિક કરો.
The "Home Learning" program was run through Girnar, BISAG's Vande Gujarat Channel, YouTube, WhatsApp, Gujarat Virtual School (GVS) as well as Home Learning Literature.  You are all well aware that the new academic session will start from June 06, 2018.  The study of this Gyansetu literature will be done by the state government during the first month of this new academic session.
આ પણ જુવો : Gyansetu Bridge Course Std. 1 to 10 | Download Full Material From Here
Gyansetu Bridge Course Patrako
The pre-re-syllabus of the standard in which the students have been admitted since June 2021 in the form of bridge course as well as the understanding / repetition / rehearsal of the standard learning outcome to understand the syllabus of the current year.  Bridge Course – Class Readiness: School Readiness for Gyansetu Sahitya Std. 1, Class Readiness for Std. 6,7 – Gujarati, Mathematics, Gujarati for Std. 6 to 8, Mathematics and English as well as Gujarati, Mathematics, English and Science subjects for Std. 10 are included.
State government primary and secondary schools as well as KGBV.  , Model, Model Day, This literature will be delivered to the students of Std. 1 to 10 of Ashram schools by Gujarat State School Textbook Board by 09 June 2021.  Softcopies of this literature will also be placed on the website of the entire Education Office.  Training on "Bridge Course Class Readiness: Gyansetu" for Std. 1 to 10 teachers will be organized from 04 to 06 June 2021 in collaboration with GSERT and Gujarat Board of Secondary and Higher Secondary Education through BISAG and MS teams.
આ પણ જુવો : SSA E Content Std 5 to 8 – Download Mobile Friendly Study Material
Gyansetu Bridge Course Patrako
"School readiness literature has been prepared for the students getting admission in Std. 1 from June 2061. Children of Std. 1 are requested to try to get involved in the work of this study with the help of parents / elder siblings / teachers, from June 10, 2071 onwards."  Bridgecourse-Class Readiness: For the Gyansetu program, students will be guided to study through Doordarshan Kendra-DD Girnar channel by their teacher friends, as well as this episode will be aired by BISAG's Vande Gujarat channel.
The Gyansetu Sahitya Diksha platform and the entire Shiksha, Gandhinagar website will be uploaded and the link will be sent regularly to the WhatsApp group in the same way as it was delivered to the students through WhatsApp last year.  In view of the above, all the teachers of primary, upper primary and secondary schools are requested to inform the parents and students about this matter.
Gyansetu Bridge Course Patrako
Students have the freedom to juggle their careers and school because they aren't tied down to a fixed schedule. In a traditional classroom setting, class meeting times are set, and the student has no power over this, forcing them to work their schedules around these dates. Most people who choose online learning tend to have other commitments, and prefer this mode of learning as it gives them power over how they will delegate their time towards their different projects.
Online education also provides students with the chance to network with peers across nations or even different continents. This often leads to other opportunities in terms of collaboration with other individuals in the implementation of a project. At the same time, it makes them culturally sensitive and able to fit into other environments easily given their exposure to other cultures.
જ્ઞાનસેતુ બ્રીજકોર્સ શિક્ષકે નિભાવવાના પત્રકો :
હોમ લર્નિંગ દૈનિક રોજનીશી પેજ ડાઉનલોડ કરવા અહી ક્લિક કરો
જ્ઞાનસેતુ બ્રિજકોર્સ વર્ગપત્રક ૧ થી ૫
જ્ઞાનસેતુ બ્રિજકોર્સ વર્ગપત્રક ૧ થી ૮
જ્ઞાનસેતુ બ્રિજકોર્સ વર્ગપત્રક ૬ થી ૮
જ્ઞાનસેતુ બ્રિજકોર્સ વર્ગપત્રક ૨
બ્રીજકોર્સ દરમિયાન શિક્ષકે નિભાવવાના પત્રકો EXCEL માં ડાઉનલોડ કરવા અહી ક્લિક કરો.