Junior Clerk Exam Cancelled  There have been reports of yet another competitive exam paper leak in the state. It has been decided to postpone the examination due to the bursting of the paper of the Junior Clerk examination to be held today. The question paper of this examination was recovered from a person, the suspect has been arrested. After taking the decision to postpone the paper, the hard work of more than 9 lakh 53 thousand candidates has finally come to a standstill. Another date for Panchayat Seva Selection Board Class 3 Junior Clerk Exam will be announced later
Junior Clerk Exam Cancelled
It is to be mentioned that after two years of Corona and after the Gujarat assembly elections, the biggest recruitment exam has been organized in the state. On Sunday 29th January, the Panchayat Service Selection Board was to conduct the recruitment examination for a total of 1 thousand 185 posts of Class 3 Junior Clerk. For which more than 9 lakh 53 thousand candidates were to give the exam across the state. This exam was to be held at 2 thousand 995 exam centers.
Also Read :
Income Tax Calculator 2022 | Calculate your Tax In Few Steps

Junior Clerk Exam Cancelled 
After a long time, a competitive exam was organized on a large scale. This exam is to be held between 11 am and 12 pm. For which the candidates were instructed to enter the examination center at half past nine in the morning. 9 lakh 53 thousand 723 candidates from across the state were giving this exam.
The examination was organized in 31 thousand 794 classrooms of 2 thousand 995 examination centers across the state. Arrangements were made for around seven and a half thousand police personnel to be present for the examination for security arrangements. However, the aspirants who are appearing for the exam are disappointed with yet another exam paper bursting.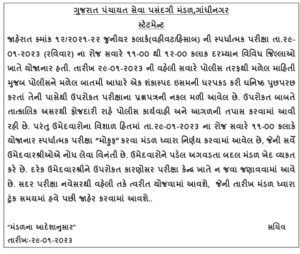 Junior Clerk Exam Cancelled - 29-01-2023
But in the larger interest of the candidates, it has been decided by the board to "postpone" the competitive examination to be held on 29-01-2023 at 11-00 am, which all the candidates are requested to take note of. The Society regrets the inconvenience caused to the candidates. Every candidate is advised not to go to the examination center for the above reasons. The Junior Clerk exam will be held afresh at the earliest, the date of which will be announced by the board shortly.