NMMS Exam Mock Test 3 : NMMS Scholarship 2021-22 Apply online can be done scholarships.gov.in Fresh New Registration Renewal, Eligibility status application form. NMMS Scholarship has a Central Government sponsored scheme. It has been started for the welfare of students from class 8th onwards.
Also Check : NMMS Exam Online Test 2 Number Series
NMMS Exam Mock Test 3
The NMMS Scholarship 2021-22 scheme has financial support given to meritorious students. And also encourage them to study further. At the secondary stage class, a much weaker section child becomes labours. They started to do work for family earnings.
Though NMMS is a Central Government scholarship scheme, its selection test is conducted by each State/UT for their respective students. These tests include a mental ability test and a scholastic aptitude test whose guidelines are set by the NCERT. The applicants need to complete each test in a maximum time duration of 90 minutes. However, children of special abilities are given some extra time to complete the tests. Given below are the details about this State Level Examination Test.
NMMS Exam Mock Test 3
The National Means Cum Merit Scholarship (NMMS) is provided by the MHRD, Government of India. The Ministry of Education awards a total of 1,00,000 NMMS scholarships every year to meritorious Class 8th students. NMMS exams are conducted by SCERTs/Education departments at state level in offline mode. Students have to go through a NMMS scholarship 2021 apply online and offline process.
It is mandatory for students to pass 8th with a minimum score of 55% to be eligible for the NMMS scholarship 2021-22. Those who qualify the NMMS 2021 scholarship exam with minimum marks will receive the Scholarship.
Highlights of NMMS Scholarship 2021-22
| | | |
| --- | --- | --- |
| S.No. | Particular | Detail |
| 1. | Objective | To arrest the dropout rate of students at Class 8 and encourage them to continue their education at the secondary level |
| 2. | Award | INR 12,000 per annum |
| 3. | Eligibility | Regular students of class 9 with a score of 55% marks in class 8 final exam |
| 4. | Application period* | August-November |
| 5. | Application process | Through the official government portal NSP |
NMMS Exam Mock Test 3
NMMS disburses a total of 100,000 scholarships every year at the rate of INR 12,000 per annum, i.e. INR 1,000 per month, to the selected students. Under National Means-Cum-Merit Scholarship, the scholarship amount is paid by the State bank of India (SBI) on one go. The amount is directly transferred into the students' accounts through Public Financial Management System (PFMS).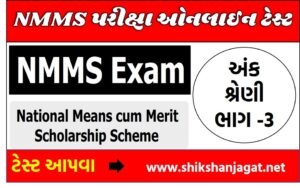 Gujarati Grammar Online Test – 20 Best MCQ Of Gujarati Vyakaran
The number of scholarships allocated to each State and UT is done on the basis of students' enrolment in class 7 & 8 and their population in the respective states. The details of the NMMS amount are highlighted below.
NMMS Exam Mock Test 3
The students of class 9 receive a scholarship amount on one go, i.e. INR 12,000 per annum, for an academic year.
The scholarship is renewed every year till the student completes his/her Higher Secondary level of education (Class 12), provided the candidate gets clear promotion into higher class every year.
NMMS Scholarship 2021 – Eligibility Criteria
A student must have been selected by the state level authority in the merit list.

A student must pass Class 8 with a minimum of 55% marks (50% marks for SC/ST) to fulfill the eligibility criteria of NMMS 2021 Scholarship exam.

The family income of the students should not exceed Rs. 1,50,000 p. a. or less from all the sources.

The NMMS scholarship is applicable only to students studying in India.

To get the scholarship. Students need to appear and clear the NMMS 2021 exam.
This has huge development in Education sector also. Moreover, the development of the state, as well as the country, will happen too. Here, we have given you all the related details about the NMM Scholarship. With the help of this program. The number of drop-out students has decreased from last year.