SEB NMMS Exam Question Paper And Answer Key: National Means-cum-Merit Scholarship Scheme (NMMSS) is a scholarship programme designed by the central government to support students financially in their secondary level education (9th, 10th, 11th, 12th). SEB NMMS Exam Question Paper And Answer Key  exam application forms are generally opened in October, and the deadline falls in December.
The total amount of NMMS scholarship is INR 12,000; the amount will be deposited as INR 1000 per month. The NMMS scholarship is awarded to qualified students every year to continue their studies at any state government school.
New : NMMS Exam – 2020 (Exam Date -14-03-2021) Final (Result નોટિફિકેશન તેમજ મેરીટ લીસ્ટ)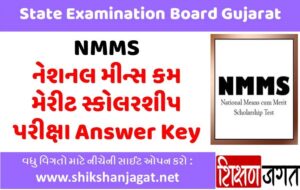 New : NMMS Exam result click here
SEB NMMS Exam Question Paper And Answer Key
| | |
| --- | --- |
| Exam name | NMMS |
| Full-Form of NMMS | National Means-cum-Merit Scholarship Scheme |
| NMMS Exam Date | 14th March 2021 |
| Conducting body | State Examination Board Of GUJARAT |
| Examination level | Gujarat State Level |
| Award | INR 12,000 per annum |
| Application mode | Online |
| Application process | @sebexam.org |
SEB NMMS Exam Question Paper And Answer Key
Students can prefer their school curriculum or NCERT books of classes 7 and 8 to start their preparation. If a student wants to take their preparation to the next level, they can also refer to NMMS previous year question papers available online for practice.
NMMS exam 2021 pattern is designed to check the scholastic aptitude and mental ability of a student. Participants have to complete each section in 90 minutes. However, students who have any kind of disability are given extra time to complete the NMMS examination. NMMS syllabus is completely based on the school curriculum of the students.
Mental Ability Test: This test examines the critical thinking and mental ability of students. It includes a total of 90 multiple-choice questions. The main topics are hidden figures, analogy, numerical series, classification, and hidden figures.
Scholastic Aptitude Test: The SAT syllabus covers question-based mathematics, social science, and science-based on the students' syllabus.
SEB NMMS Exam Question Paper And Answer Key
The central government specially designed NMMS exam to provide financial support to the students of class 8. The central government has also created some conditions and eligibility criteria for students to apply for the NMMS exam. The eligibility criteria for NMMS are given below.
NMMS was designed for the students studying in 8th standard. Thus, the participant must be studying in 8th class.
Participants must have scored a minimum of 55% marks in their 7th standard examination.
Participants must belong to the government, local body, or government-aided schools.
The annual income of the participant family must be below INR 1.5 lakhs.
Who is not Eligible to Apply for NMMS Exam?
Students studying in Navodaya Vidyalaya, Sainik schools, and Kendriya Vidyalaya
Students from private schools.
Students pursuing their studies in the residential schools run by the state government with facilities like lodging and boarding.
NMMS Registration
If the student wants to register for NMMS in offline mode, students have to fill the NMMS application form 2021 and submit it with all the necessary documents to their respective school.
Participants can also fill the NMMS application form 2021 through the National Scholarship Portal (NSP). Firstly, students have to create their online NMMS portal account by filling in all the required details. After entering the NMMS portal, students have to fill in all the details and register for NMMS exam 2021. Students can log in to their portal from their NMMS login ID and password.
Related Posts
School authorities should fill NMMS online application forms and get the hardcopy of online forms along with attested copies of the following documents.
Class 7th mark sheet
Caste and income certificate
Disability certificates (if applicable)
Signatures by the student & parent
Forms signed by the institution head
The payment receipt from SBI should be submitted to the respective education officer/educational inspectors on or before the last NMMS Exam date of submission.
SEB NMMS Exam Question Paper And Answer Key 2021
For the preparation of the National Means-cum-Merit Scholarship Scheme (NMMSS), students can take help from the NMMS exam example paper. NMMS sample paper can help the student to understand the NMMS exam 2021 pattern and can also help the student to build a mindset of how to attempt the NMMS exam. Every student must solve a few sample papers to become familiar with the exam pattern and questions.
Students can estimate their marks with the help of the answer key provided by the NMMS. The answer key helps a student to analyse their strengths and weaknesses. After analyzing the strengths and weaknesses, the student can prepare for more competitive exams in future.
NMMS Exam 2021 Question Paper : Click Here
NMMS Exam 2021 Official Answer Key : Click Here
For Objection Form Submission : Click Here
NMMS RESULT 2021 Declared
New : NMMS Exam – 2020 (Exam Date -14-03-2021) Final (Result નોટિફિકેશન તેમજ મેરીટ લીસ્ટ)
New : NMMS Exam result click here