SMC SMIMER Recruitment Surat Municipal Corporation run SMIMER Medical College & Hospital, various health centers and city areas for Covid-14, vaccination, Dhanvantari Rath and Omicron cases as part of precautionary measures. For the purpose of recruiting from the fixed monthly salary on a contractual basis for the earliest of the two and for the purpose of making a waiting list.
Related Post : Saraswat Bank Recruitment 2021 | Apply For 300 Junior Officer Posts
The candidates with suitable qualifications as mentioned in Form-1 below will be invited to Lecture Hall, 1st Floor, B Block, SMIMER Medical College. , In front of Bombay Market, Umarwada, Surat with original certificates, as well as its certified copies (e.g., School Leaving Certificate, All Year Marksheet, Degree Certificate, Registration Certificate, Certificate of Experience, ID Proof etc …) And photographs must be brought along.
The Surat Municipal Corporation ,SMIMER has released an employment notification inviting candidates to apply for the positions of below mentioned  posts.T his is a great chance for interested candidates who are looking for  SMC Jobs 2022.Candidate is advised to visit official   SMC Recruitment notification before applying for this post.more detailed information regarding educational qualification, age limit, selection procedure, how to apply ,last date for SMC Jobs  2022 are mentioned below.
SMC SMIMER Recruitment Details
As per the precautionary measures for Surat Municipal Corporation run Smimer Medical College and Hospital Health Center and in urban areas and for corona cases, the following places should be recruited on contractual basis for a fixed period of three months for a period of three months and till the completion of ancillary work. For the purpose of making a waiting list, the candidates with proper qualifications mentioned in Form One below will be required to bring the original certificate and its certified photograph along with the date and time mentioned in the form below.
Related Post : Bank of India Recruitment 2022 | Apply For 25 Security Officer Job Vacancy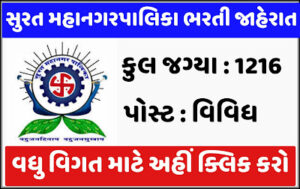 SMC SMIMER Recruitment Vacancy
No. of posts: 1216
Name of posts:
Specialist Paleontologist / Physician: 03 Posts
Medical Officer (Ayush): 175 Posts
Nurse: 400 Posts
Medical Officer: 125 Posts
Laboratory Technician: 215 Posts
Radiographic Technician: 08 Posts
Electrocardiograph Technician: 02 Posts
Assistant Engineer (Biomedical): 08 Posts
Driver: 50 Posts
Word boy: 157 Posts
Aya: 73 Posts
Educational Qualification : Post wise various degree Check Jobs notification page.
Selection Process : Final Selection Interview base.
How to Apply : Candidates need to apply remain present with prescribed application format along with all necessary documents, certificates.
Venue: Lecture Hall, 1st Floor, B-Block, Smimer Medical College, Opp. Bombay Market, Umarwada, Surat
SMC SMIMER Recruitment How To Apply ?
The candidate should voluntarily be present at the above mentioned address along with all the proofs including the prescribed specimen and the printed delete form filled photograph placed on the above mentioned website.
Candidates who are currently on duty in Surat Municipal Corporation will have to re-apply if they want to rejoin the said research.
A copy of the completed registration must be brought for the above places in which the registration certificate is required.
As well as the above posts will be subject to the terms and conditions of contract based recruitment from fixed salary as per the rules. No other kind of financial benefit will be given.
SMC SMIMER Recruitment Important Dates
For Sr. No. 1 To 3 : 30.12.2021
For Sr. No. 4 To 7 : 31.01.2021
For Sr. No. 8 To 11 : 01.01.2022
Registration Time : 09 To 01 & 01:30 To 04:00
Interview time: 09:00 to 01:00 & 1.30 to 4.00
SMC SMIMER Recruitment Links
SMC Official Jobs notification 2021