GK Online Test : General Knowledge is the awareness of a broad range of facts about various subjects, such as important events, people, history, geography, scientific phenomena, mathematical facts, etc. It is accumulated over time and is supported by human memory. GK Online Test Series is very helpful for any competitive exams.
GK Online Test
In this blog, I am providing Indian History GK Questions for Competitive Exams. You can easily get 2-3 marks with the help of these modern Indian History GK Questions and answers. This post of Modern Indian History General knowledge Questions is very important.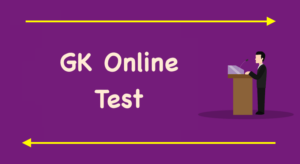 As you know Indian History GK Questions and modern Indian History GK questions are the very useful topic for SSC, Banking and other Competitive Exams. You should also check General GK Questions and Answers.

GK Online Test
Social Science is one of the fastest changing subject as the pace of development is very quick, and a knowledge can become stale with in a short period. that's why this article has been thoroughly revised and updated. General knowledge 2021 or current affairs is easy scoring and very important section to score good marks in all competitive Exams. Read on to find more about general knowledge questions and answers for competitive exams.
Digital Classroom is an online platform for managing data associated with its tutoring classes in the most efficient and transparent manner. It is a user-friendly app with amazing features like online attendance, fees management, homework submission, detailed performance reports and much more- a perfect on- the- go solution for parents to know about their wards' class details. It's a great amalgamation of simple user interface design and exciting features; greatly loved by students, parents, & tutors.
GK Online Test
As we are aware that Top 20 Social Science GK Questions In Online test is very important area in all the competitive exam held in the country. Most of the aspirants feel difficulty in scoring good marks in it. Now a days, a good knowledge of general awareness is very important in clearing any competitive exam. To over come all this you should have a understanding of the things happening around you.
Social Science MCQ with answers for Teacher Eligibility Test – TET, Bin Sachivalay Clerk, GPSC, TAT, HTAT, HMAT, Talati, Gram Sevak, ASTO.  These questions will help you to prepare your Competitive examinations for Social Study papers.
TPEO Ke Ni Online Test 9 | Most Useful Test Series For Education Department Exams
Digital Class is the free learning app & marketplace this is India's fastest-growing platform for selling & buying education course online. In today's advanced technology world, if you didn't get to learn an education course at your institute, you can easily access anything through this online tutoring app.
GK Online Test
The purpose of the Digital Class app is to provide you with the best free virtual learning materials as well as a place to sell your skills. If you are a teacher, you can use our online marketplace as the tutoring platform for free remote teaching and if you are a student, use this virtual learning app to learn and develop new skills.
Digital Class is Platform for empowering teachers for Online Tutoring and students to build a digital community of skilled people worldwide. You get the greatest opportunity of learning and earning at the same time.
GK Online Test
Science And Technology online Test – Top 20 GK Questions For Exams