Gujarati Sahity Study Material The history of Gujarati literature can be divided into three broad periods: Early period (upto c.1450 A.D.), the Middle period (up to 1850 A.D.) and the Modern period (1850 A.D. onwards).  It is claimed that the earliest writings in Gujarati was by Jaina authors. These were in the form of Rasas, Phagus and Vilasas. The rasas were long poems which were heroic, romantic or narrative in nature.
આ પણ જુવો : Indian Geography Book Gujarati | Download Most Useful PDF Free
Gujarati Sahity Study Material MCQ PDF
Salibhadra Suri's Bharatesvara Bahubalirasa (1185 A.D.), Vijayasena's Revanagiri-rasa (1235 A.D.), Ambadeva's Samararasa (1315 A.D.) and Vinayaprabha's Gautama Svamirasa (1356 A.D.) are the best examples of this form of literature. The other notable Prabandha or narrative poems of this period include Sridhara's Ranamalla Chanda (1398 A.D.), Merutunga's Prabodhachintamani, Padmanabha's Kanhadade Prabandha (1456 AD) and Bhima's Sadayavatsa Katha (1410 A.D.).
આ પણ જુવો : Maths And Reasoning Material | Download Study Material PDF
The phagus are poems which depict the joyous nature of the spring festival (Vasantha). Rajasekhara's Neminatha-phagu (1344 A.D.) and Gunavanta's Vasantha-vilasa (1350 A.D.) are best examples of such texts. Neminatha Catuspadika (1140 A.D.) by Vinayachandra is the oldest of the baramasi genre of Gujarati poems. The earliest work in Gujarati prose was Tarunaprabha's Balavabodha (1355 A.D.). Prithvichandra Charita (1422 A.D.) of Manikyasundara, which is a religious romance, is the best representation of Old Gujarati prose and is reminiscent of Bana's Kadambari.
Gujarati Sahity Study Material 550 Gk PDF
During the 16th century, the Gujarati literature came under the strong influence of the Bhakti movement.  Narsimha Mehta (1415-1481 A.D.) was the foremost poet of this period. His poems very spiritual and mystical and were a deep reflection of the philosophy of Advaitism.  His Govinda Gamana, Surata Sangrama, Sudama Charitraand Sringaramala are outstanding specimens of devotional poetry.
ગુજરાતી સાહિત્ય 550 MCQ PDF ડાઉનલોડ કરો અહીંથી
ગુજરાતી સાહિત્ય 595 MCQ PDF(Part-2) ડાઉનલોડ કરો અહીંથી
ગુજરાતી સાહિત્ય 350 MCQ PDF(Part-3) ડાઉનલોડ કરો અહીંથી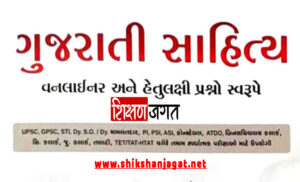 Another poet, Bhalana (1434-1514 A.D.) rendered Bana's Kadambari into Gujarati. He also authored other important works like Dasama Skandha, Nalakhyana, Ramabala Charitra and Chandi Akhyana. Yet another poet, Mandana, produced great works like Prabodha Battisi, Ramayana and Rukmangada Katha. In this period, the Ramayana, the Bhagwad Gita, the Yogavashistha and the Panchatantra were all translated into Gujarati.
From the middle of 19th century, Gujarati, like other regional Indian languages, came under strong western influence, precisely due to colonial residence and colonial reign. Western education and culture started to influence local culture and the awareness was spread about pervasive customs of Hindu society. Two sections in society emerged: conservative following traditional customs as a cultural duty and liberal which believed in opposition and end of social pervasive customs and injustice So Prarthana Samaj, Arya Samaj.
Gujarati Sahity Study Material In Gujarati
Theosophical Society were established which wanted to reform society through religion while other reformers believed in non-religious way of reform. Social reform was a central subjects in works of this era. Narmad, Govardhanram Tripathi and Gatubhai Gopilal Dhruv advocated reform through religion while Ramanbhai Nilkanth, Narsinhrao Divetia and Kant advocated non-religious way.
The Pandit Era came to an end in 1914, when the First World War broke out. Mahatma Gandhi, with his weapon of Satyagraha (Friendly passive resistance) tried and tested in South Africa. Mahatma Gandhi left Africa and arrived in early January 1915. With penetrating insight he observed first hand the socio-economic and political conditions obtaining in India and thought about every question related to life. After Gandhi's arrival on the Indian scene, the literary climate of Gujarat, which was the hub of all Gandhi's socio-political activities, underwent a rapid change. Gandhi started editing Navajivan, a weekly periodical, and spread his thoughts and ideology.
Gujarati Sahity Study Material 
In this era there is a dominance of poetry. The main contributors of this age are Niranjan Bhagat, Rajendra Shah, Venibhai Purohit, Prahlad Parekh and Balmukund Dave. Rajendra Shah won the Jnanpith—the Indian government's most prestigious literary prize—for the year 2001. The judges noted, "his intensity of emotion and innovation in form and expression which set him apart as a poet of great significance. The mystical tone of his poetry stems from the tradition of great medieval masters like Kabir, Narsinh Mehta and literary giants like them".
Gujarati Sahity Study Material 
He authored more than 20 collections of poems and songs, mainly on the themes of the beauty of nature, and about the everyday lives of indigenous peoples and fisherfolk communities. In his poems using Sanskrit metrics, he was influenced by Rabindranath Tagore. He was one of the giants of the post Gandhi-era, called 'Anu-Gandhi Yug' in Gujarati literature.
ગુજરાતી સાહિત્ય 550 MCQ PDF ડાઉનલોડ કરો અહીંથી
ગુજરાતી સાહિત્ય 595 MCQ PDF(Part-2) ડાઉનલોડ કરો અહીંથી
ગુજરાતી સાહિત્ય 350 MCQ PDF(Part-3) ડાઉનલોડ કરો અહીંથી