IBPS 4135 PO Recruitment 2021 : The notification for IBPS PO Recruitment 2021 has been released by the Institute of Banking Personnel Selection. A total of 4,135 vacancies are there for probationary officer and management trainee posts, across banks, and registration will start on October 20. November 10, 2021, will be the last day to apply. Interested candidates can apply online by visiting the official IBPS site –  ibps.in.
Also Check : Indian Navy AA SSR Recruitment 2021 | Apply For 2500 Posts | Notification PDF
IBPS 4135 PO Recruitment 2021 Details
IBPS PO 2021 exam will be conducted by the Institute of Banking Personnel Selection (IBPS) to select eligible candidates for the post of Probationary Officers in different public sector banks in India. IBPS PO exam is conducted every year since 2011 and is now happening in 2021 in its 11th edition. The IBPS CRP PO/MT CRP-XI 2021 is for the selection of candidates for the 11 public sector banks.
Also Check : IBPS Clerk Recruitment 2021 : Apply For 5830 Vacancy @ibps.in
IBPS provides its services to all Public-Sector Banks (PNB, BOB, etc.), SBI, RBI, NABARD, SIDBI, LIC & Insurance companies and other Banks which are regular members of the IBPS society. In 2011, IBPS started the Common Recruitment Process (CRP) for recruiting officers and clerks in Indian Bank and accepts online applications through its official website. IBPS PO exam is conducted at various locations throughout India and in online mode only. IBPS PO Online Registration for 4135 vacancies is active from 20th October to 10th November 2021.
IBPS 4135 PO Recruitment 2021 Job Summary
| | |
| --- | --- |
| Notification | IBPS PO 2021 Notification Out: Registration Begins Tomorrow @ibps.in, Check New Exam Date Here |
| Notification Date | 19 Oct, 2021 |
| Last Date of Submission | 10 Nov, 2021 |
| Date Of Exam | 4 Dec, 2021 |
| City | New Delhi |
| State | Delhi |
| Country | India |
| Organization | IBPS, IBPS |
| Education Qual | Graduate |
| Functional | Banking |
IBPS 4135 PO Recruitment 2021 Exam Dates
Th exam dates for IBPS PO 2021 prelims and mains exam have been released by thee IBPS on 19th October 2021 along with its official notification. As per the notification, IBPS PO Prelims will be held on 04th & 11th December 2021 and IBPS PO Mains in January 2022. Check the below table for all important dates for IBPS PO 2021 that has been announced in the IBPS PO Notification 2021.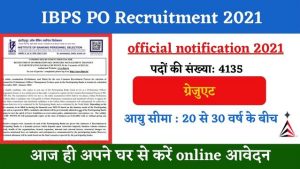 IBPS PO Notification 2021: Exam Dates
Events
Dates (Tentative)
IBPS PO Notification 2021
19th October 2021
Apply Online Starts
20th October 2021
Last date to Apply Online
10th November 2021
Download PET Call Letter
November 2021
Conduct of Pre-exam Training
November/ December 2021
IBPS PO Prelims Admit Card
November/ December 2021
IBPS PO 2021 Preliminary Exam Date
04th and 11th December 2021 (tentative)
IBPS PO Preliminary Result
December 2021
IBPS PO 2021 Mains Admit card
December 2021/January 2022
IBPS PO Mains Exam Date
January 2022
IBPS PO Mains Result
January/ February 2022
Download call letter for interview
February 2022
Conduct of interview
February/ March 2022
IBPS PO 2021 Provisional Allotment
April 2022
IBPS 4135 PO Recruitment 2021 Vacancy Details
A total of 4135 vacancies for the IBPS PO 2021 has been released with the IBPS PO Notification 2021. Here we have presented the detailed IBPS PO 2021 Vacancies. You can predict the number of vacancies for the IBPS PO exam from last year's vacancies. The vacancy details for the last year is given below
IBPS PO 2021 Vacancy Details
Organisation 
General
SC
ST
OBC
EWS
Total
Bank of Baroda
0
0
0
0
0
0
Bank of India
240
88
44
158
58
588
Bank of Maharashtra
162
60
30
108
40
400
Canara Bank
265
97
48
175
65
650
Central Bank of India
53
193
104
257
13
620
Indian Bank
NR
NR
NR
NR
NR
NR
Indian Overseas Bank
41
14
07
26
10
98
Punjab National Bank
NR
NR
NR
NR
NR
NR
Punjab & Sind Bank
169
67
37
112
42
427
UCO Bank
179
66
33
118
44
440
Union Bank of India
491
94
47
148
132
912
Total 
1600
679
350
1102
404
4135
IBPS 4135 PO Recruitment 2021Eligibility Criteria
A candidate who wants to appear for the upcoming IBPS PO exam should check that they fulfil the criteria required. Also, consider the age relaxation provided for the IBPS PO examination in the notification of IBPS PO.
Nationality
The applicant for applying for the IBPS PO exam could be:
A Citizen of India
The subject of Nepal or Bhutan
Tibetan refugee who is permanently settled in India prior to January 1, 1962
Person of Indian origin who has migrated from either Pakistan, Sri Lanka, Burma, Vietnam, Ethiopia, Kenya, Malawi, Tanzania, Zaire, or Zambia with the intention of residing in India permanently.
IBPS 4135 PO Recruitment 2021 Edu. Qualifications
Applicants applying for IBPS PO 2021 should have the following educational qualification: An applicant possessing a graduate degree (such as BA, BCom, BSc, B.Tech) from a recognized university. Please note that the degree or marks should be obtained on or before the date(to be issued). Also, candidates possessing degrees equivalent to the mentioned qualification are also eligible.
Knowledge of Computers- As the exams are now conducted online, candidates need to know the basic working of the computer.
Language Proficiency- Verbal and written knowledge of the state/ UT is desirable.
IBPS 4135 PO Recruitment 2021 Age Limit
An applicant aiming for the IBPS PO examination should be between the age of 20 years but less than 30 years.
The age relaxation for the candidates for IBPS PO 2021 is as follows:
| | |
| --- | --- |
| Category | Age Relaxation |
| Scheduled Caste | 5 years |
| Scheduled Tribe | 5 years |
| Other Backward Class- Non-creamy layer | 3 years |
| Person with disability | 10 years |
| Ex-Servicemen, Commissioned Officers (including Emergency Commissioned Officers, and Short Service Commissioned Officers) who served more than 5 years and resigned at the conclusion of the assigned project. | 5 years |
| Persons ordinarily domiciled in the J&K from January 1st, 1980 to December 31, 1989 | 5 years |
| Candidates affected by the 1984 riots | 5 years |
Ensure that the eligibility is fulfilled in all aspects to get this particular government job.
IBPS 4135 PO Recruitment 2021 Apply Online
The online registration process to apply for IBPS PO 2021 will begin from 20th October and the last date to apply online is 10th November 2021. The online application process begins for IBPS PO 2021. Click on the link below to apply online for IBPS PO 2021. The link is now active.
IBPS 4135 PO Recruitment 2021 Fees
The category wise fee structure for IBPS PO 2021 online application is given below. Fee/Intimation charges once paid will NOT be refunded on any account nor can they be held in reserve for any other examination or selection. The application fee must be paid online itself. To know more check the complete guide for the IBPS PO Application Fee.
| Sr. No. | Category | Application Fee |
| --- | --- | --- |
| 1 | SC/ST/PWD | Rs.175/- (Intimation Charges only) |
| 2 | General and Others | Rs. 850/- (App. Fee including intimation charges) |
IBPS 4135 PO Recruitment 2021 Prelim Exam Pattern
The IBPS PO preliminary examination has a total duration of 1 hour and 20 minutes for each section, which will be conducted in online mode. It consists of 3 sections with a total of 100 questions and a maximum score of 100 marks. There is a negative marking in the IBPS PO pre-exam and 0.25 marks are deducted for each wrong answer. Candidates must clear the cut-off in all 3 sections to qualify for the IBPS PO Main exam. The section-wise details are given below:
IBPS PO Prelims Exam Pattern
S.No.
Name of Tests(Objective
No. of Questions
Maximum Marks
Duration
1
English Language
30
30
20 minutes
2
Numerical Ability
35
35
20 minutes
3
Reasoning Ability
35
35
20 minutes
Total
100
100
60 minutes
Candidates have to qualify in each of the three tests by securing minimum cut-off marks to be decided by IBPS. Adequate number of candidates in each category as decided by IBPS depending upon requirements will be shortlisted for Online Main Examination.
IBPS PO Mains Exam Pattern
The IBPO PO Main exam is also conducted online, it has 5(4+1) sections with a total score of 200+25 marks and total duration of 180+30 minutes. IBPS will be conducting a descriptive paper in its mains exam for selection of candidates to the post of Probationary Officer. The sections must be attempted in the same order and the allotted time as mandated at the time of the exam. A candidate has to clear both preliminary and mains examinations to be eligible for the interview process.
IBPS PO Mains Exam Pattern
S.No.
Name of Tests(Objective
No. of Questions
Maximum Marks
Duration
1
Reasoning & Computer Aptitude
45
60
60 minutes
2
English Language
35
40
40 minutes
3
Data Analysis & Interpretation
35
60
45 minutes
4
General Economy & Banking Awareness
40
40
35 minutes
Total
155
200
3 Hours
5
English Language (Letter Writing & Essay)
2
25
30 minutes
Penalty for Wrong Answers: There is a penalty for wrong answers marked in the Objective Tests of both Preliminary and Mains exams. A wrong answer to an objective question by the candidate will lead to a penalty of one-fourth of the marks assigned to that question. For example, 0.25 marks will be deducted as a penalty for a wrong answer to a question that carries 1 mark. There will be no penalty for leaving a question blank, i.e. if no answer is marked by the candidate.
IBPS PO Interview
The candidates who have qualified for the mains exam are called for a face to face interview which carries a maximum of 100 marks. The minimum qualifying mark in the interview is 40% (35% for SC/ST/OBC/PWD candidates).
The interview round is generally 15-20 minutes long, where a panel of bank officials ask questions to the candidates about themselves, banking sector, current affairs, general awareness, etc. The candidates must be well dressed, confident and carry all required documents to the interview.
The final merit list is prepared on the basis of marks obtained in the mains examination and interview. The final score is calculated by IBPS with weightage of marks given to the main examination and interview in the ratio of 80:20 respectively.
Final Score Calculation for IBPS PO Exam
The final score for the IBPS PO exam is calculated keeping the following points in mind:
• Marks obtained in the Preliminary Exam (Tier-1) will not be considered in the final score and are only for qualifying to Mains Exam (Tier-2).
• Candidates must qualify for Phase-2 and Interview separately to be eligible for final merit.
• The weightage (ratio) of IBPS PO Main exam and interview for the final merit list will be 80:20 respectively.
• The aggregate score out of 100 is used for the final merit list for each category. Candidates with top merit rank in each category are finally selected.
IBPS PO 201 Syllabus 
IBPS exam syllabus is no different from any other bank exam. While IBPS issues only the broad subjects, they can be further subdivided into individual topics, based on the questions that have appeared in the exams over the past few years. The IBPS PO syllabus is divided into two parts:
IBPS PO Prelims Exam Syllabus 
This comprises of Reasoning Ability, Quantitative Aptitude and English Language.
| Reasoning | Quantitative Aptitude | English Language |
| --- | --- | --- |
| Logical Reasoning | Simplification | Reading Comprehension |
| Alphanumeric Series | Profit & Loss | Cloze Test |
| Ranking/Direction/Alphabet Test | Mixtures &Alligations | Para jumbles |
| Data Sufficiency | Simple Interest & Compound Interest & Surds & Indices | Multiple Meaning / Error Spotting |
| Coded Inequalities | Work & Time | Fill in the blanks |
| Seating Arrangement | Time & Distance | Miscellaneous |
| Puzzle | Mensuration – Cylinder, Cone, Sphere | Paragraph Completion |
| Tabulation | Data Interpretation | |
| Syllogism | Ratio & Proportion, Percentage | |
| Blood Relations | Number Systems | |
| Input-Output | Sequence & Series | |
| Coding-Decoding | Permutation, Combination &Probability | |
Important Dates
Opening date of application – October 20, 2021
Closing date of application – November 10, 2021
Download of call letters for pre-exam training – November 2021
Prelims online exam – December 4 to December 11, 2021
Main exam – January 2022

Important Links
Notification PDF: Click Here
Apply Online: Coming Soon
More Details: Click Here
Hope the candidates who are here to check the complete and accurate details about the IBPS PO Recruitment 2021 have found this article worthwhile. For more latest job updates like do keep visiting the SHIKSHANJAGAT Now website daily.
Important Dates:
Commencement of Call letter Download: 20-11-2021
Closure of Call letter Download: 11-12-2021
Preliminary exam: 4 December 2021 and 11 December 2021
Download Online Exam Call Letter: Click Here