TET 2 Exam Hall Ticket Gujarat State Examination Board (SEB) conducts Gujarat Teacher Eligibility Test (Gujarat TET) to recruit teachers in the government schools of Gujarat state. The Gujarat TET exam is conducted in two phases- TET 1 (for Primary Classes) and TET 2 (for Upper Primary Classes).
TET 2 Exam Hall Ticket
Teacher Eligibility Test-II-2022 (Teacher Eligibility Test-II-2022) is hereby conducted by the State Examination Board, State of Gujarat, Gandhinagar for the prescribed eligibility for appointment as Primary Teacher/ Teaching Assistant in Upper Primary School (Class 6 to 8). A notification is issued. The above test/examination will be organized through the District Education Officers in the designated districts under the management of the State Examination Board.
The duration of the exam for both sections is 150 minutes. And each paper carries a total of 150 marks. A candidate must secure at least 60% marks to clear the Gujarat TET exam and get recruited as a government teacher in Gujarat.
TET 2 Exam Hall Ticket
For TET 2 Old Papers PDF Click Here
Quickly find answers about businesses, restaurants and attractions, including business hours, traffic info and Google Maps directions. You can also find the best restaurants or find car parks near you.
TET પરીક્ષા EWS પાસીંગ માર્ક અંગે ઠરાવ PDF
TET 2 17-03-2023 સુધારેલુ જાહેરનામુ PDF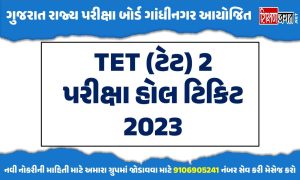 TET 2 Exam Hall Ticket
This test will be of Multiple Choice Question Based MCQS format.
This test will be in two sections. There will be 75 questions in section-1 and 75 questions in section-2.
Both sections and all questions of this test will be compulsory. There will be a single question paper for both the sections of this test.
In this test, the duration of the question paper will be 120 minutes for a total of 150 questions on various objectives. Section-R will be different for the test of three subjects namely Mathematics-Science, Languages ​​and Social Science.
In the language question paper, question number: 136 to 150 will be of Sanskrit language, Marathi language and Urdu language. Out of which the candidate has to answer 15 questions (Question No.-136 to 150) of any one language. Each question will carry one mark.
There will be no negative marking in the evaluation of these tests.
The syllabus of the question paper will be as per the Education Department Resolution No: PRE/1111/711/3, dated 27/04/2011. (A copy of the resolution is enclosed herewith.)
Note: The examination pattern and other instructions of this examination shall be subject to the resolutions, instructions and provisions of the Government from time to time prior to the examination.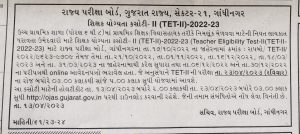 You Can Also Check :
TET 2 Exam Hall Ticket
Examination fee 250/- (two hundred and fifty whole) for SC, ST, SEBC, PH category candidates while examination fee 350/- (three hundred and fifty whole) for general category candidates has to be paid. Apart from this, the service charge will be separate.
For TET 2 Detailed Syllabus PDF Click Here
TET પરીક્ષાની તારીખ
તમામ ઉમેદવારોની કસોટી તા.૨૩-૦૪-૨૦૧૩નાં રોજ યોજાશે.
મહત્વપૂર્ણ લિંક: