Pariksha Aayojan File Gujarat Council of Education Research And Training has recently published circular for the first semester exam for standard 3 to 8 in Gujarat Government Primary Schools. A large numbers of students studying in primary schools of Gujarat will appeared in fist semester exam 2022.
Pariksha Aayojan File
GCERT has cleared that students have to start preparing for this semester exam 2022. In official circular of GCERT mentioned that the semester exam will be start from 10th October 2022 to 18th October 2022. GCERT will provide blue print to all DIETS for the question papers. DIETS have to follow that blue print for developing the question papers. GCERT has also cleared that the answer books of students will be checked by own school teachers.
This is the great relief for the teachers to check answer books by own teachers. In the past the answer books were checked by other school teachers. Now teachers can easily check answer books in schools and also can prepare result as soon as possible. Here we are providing result sheet in PDF as well as Excel sheet for teachers to plan this Semester exam.
Pariksha Aayojan File
Teachers can easily plan for this semester exam by using these files. These files will be very useful for exam planning. In this planning file teacher will find First semester exam time table, Students register data, Absent-Present students data, classroom supervision data, Grade sheet, answer book checking planning and many other useful data. This planning file will be easy to use itself.
Also Check :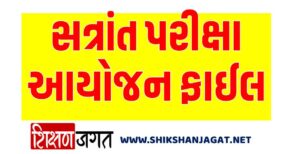 So, we are requesting to the teachers of all Gujarat to use this exam planning file for your schools and also share this post to your teachers friends and schools. Exam planning is must necessary for the schools. This file will help teachers to plan easily for schools. You can download exam planning file from below given links in PDF and Excel format.
Shikshanjagat is the best platform for the students and teachers who are in search for school material. We daily provide Gk pdf, GK Image, Din Vishesh, School Patrak, PSE Tests, NMMS Tests, Competitive exams material and mock tests. So keep visiting us for latest study and school material.
Pariksha Aayojan File Important links :
સત્રાંત પરીક્ષા આયોજન ફાઈલ Excel
સત્રાંત પરીક્ષા આયોજન ફાઈલ PDF