Talati Constable Clerk Online Test 38 : Welcome to Shikshanjagat. Shikshanjagat is Gujarat's top website for GK (General Knowledge), General Studies, Current Affairs and Aptitude for UPSC, SSC, Banking / IBPS, IAS, NTSE, CLAT, Railways, NDA, CDS, Judiciary, UPPSC, RPSC, GPSC, MPSC, MPPSC and other states civil services / government job recruitment examinations of India.
Also Read : Talati Constable Clerk Online Test 2 | Best Mock Test for Competitive Exams
Talati Constable Clerk Online Test 38
You can prepare for the upcoming exam by solving questions available with solutions in the form of quizzes in this article, candidates need to practice daily General Knowledge, mock tests, etc. daily for a good hold on this section. Shikshanjagat provides the candidates with a variety of questions from this section which are highly selective and are prepared by our experts of the daily General Knowledge.
NMMS Online Test 2021 – Number Series
Based on the General Knowledge and Important News of we frame important GK questions for banking and competitive exams everyday. These GK quiz questions will be helpful for upcoming competitive exams. Give our online GK test everyday to be prepared for any exam. We try to prepare the best and most expected GK questions with answers.
Talati Constable Clerk Online Test 38
Shikshanjagat is the best and well known online platform for students who are preparing for GPSC, TET, TAT, HMAT, HTAT, GSSSB, LRD, POLICE Exams, Sachivalay Clerk and many more exam which are conducted by Gujarat Government. Shikshanjagat Provides daily GK Online Test and Study material in Gujarati for the aspirants. In Gujarat this the most searched online platform for study material.
As we all know that General Knowledge and General Awareness is very crucial area in competitive exams and most of the students feel great difficulties to score in it. A good base in General Knowledge is very important for clearing any competitive exams. Tackling these exams you should develop a good understanding of the things happening around them.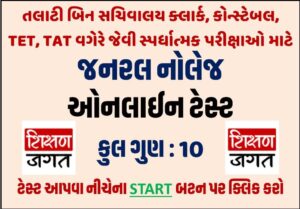 Shikshanjagat's General Knowledge Online Tests include a wide range of GK and General Awareness Questions and Answers in GK Quiz form. These Online General Knowledge Tests cover all those topics which can be useful for any Competitive Exams.
Talati Constable Clerk Online Test 38
Practice India And Gujarat GK online test here. India and Gujarat GK mock test contains 20 questions from India general knowledge. This online test of Gujarat GK quiz is based on 10000 Gujarat history, geography, culture, rivers, lakes and devi devta and historical persons. Competition based GK quiz in Gujarati is helpful for all students preparing for Competition exams conducted for government jobs.
Mock test helps students to understand pattern of competition exams. online mock test in Gujarati is helpful for Gujarati speaking students. We provide full test series and previous years solved model papers . Students preparing for teachers exam after bstc and bed can be benefited from our website . Multiple choice questions or MCQ of India gk is useful in RAS, IAS, patwari, teachers, police constable . free India GK MCQ In Gujarati provided on our website clear every aspect about people and area of this state. Every topic wise test cover 100 percent of syllabus.
Talati Constable Clerk Online Test 38
Shikshanjagat is most famous online portal for the students who are preparing for GPSC, TET, TAT, HTAT, GSSSB, GPSSB, Clerk, Talati, Gram Sevak, Revenue Talati and other Gujarat level exam. Shikshanjagat Daily provides Online test, GK PDF, Current Affairs, Model Papers, Job Notifications, Syllabus, Answer Keys, Exam Notifications, Call Letters, Admission and more. We request you all to suggest Shikshanjagat to all your friends and relatives.
Here is Today's General knowledge test of 10 marks for the candidates who are preparing for Talati, Clerk, Constable exams.
Also Check :